Robinson dismisses Alliance-SDLP flag proposal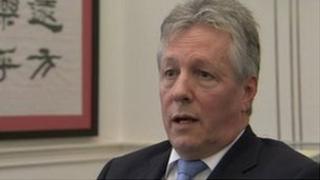 The First Minister has rejected the notion of a Parades Commission style body to regulate the flying of flags around Northern Ireland.
Both the SDLP and Alliance suggested developing a new regulatory framework to govern flag flying on lamp-posts and other public property.
Peter Robinson, however, said the idea was not sensible.
"If we get down to things that are clearly unenforceable, then there is no way forward," he said.
"It's just nonsense. You have the Alliance Party's published proposal on flags which makes it illegal for you to fly a flag in a Housing Executive estate.
"So try going along to Braniel or Cregagh and if there's a flag flying from a lamp-post it's going to be an illegal activity."
The Alliance and SDLP suggestions arose during discussions last year on a draft community relations strategy.
Loyalist street demonstrations have been taking place since Belfast City Council voted to limit the number of days the union flag is flown at Belfast City Hall.
Many street demonstrations have passed without incident, but some have resulted in serious rioting.