Debt Action NI officially launched by enterprise minister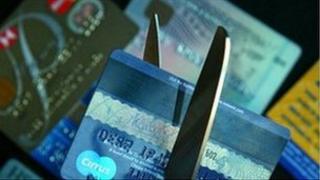 A service to help people in Northern Ireland struggling with debt has been officially launched.
Debt Action NI has been up and running since last August. Since then, it has seen more than 3,000 clients dealing with £54m worth of debt.
Advisors can be contacted via text, freephone and a virtual advisor service is available online.
The service, which will run until 2015, has been given a £2.5m award from the department of enterprise.
The new service is delivered in partnership with Payplan, one of the UK's largest providers of free-to-client debt advice and aims to help the most vulnerable take back control of their finances.
People struggling with debt can also receive face-to-face advice at over 40 locations across Northern Ireland.
Fiona Magee, deputy chief executive of Advice NI said the most common type of debt for clients was credit card debt followed by personal loans, catalogue debt and overdrafts.
She said one of the major problems for people is the fact they owe money to lots of different creditors.
"For a growing number of people, crippling debt is becoming a major, life-defining issue. The Debt Action NI service aims to make getting on top of debt a much more straightforward and achievable process.
"We can help by providing advice and support on managing repayments, negotiating with creditors and assisting at court," she said.
"One key element of the new service is a way to help pay off multiple creditors through a 'single disbursement payment system.'
"This system allows those who can only afford a small or token offer payment to make a single payment, with Advice NI then negotiating with creditors to agree a monthly repayment. We know that this will be a major help to many people across Northern Ireland."
Ms Magee outlined the case of one client the service had helped.
"He had two credit cards and over five years his debt spiralled from £7,000 to £15,000 and the interest went from 13% to 40%," she said.
"He was made redundant and due to the pressure he was under had a mental breakdown. The Debt Action NI adviser negotiated a debt management plan for the client.
"The client told us that the debt, amongst other things, had nearly destroyed his life. He said the help Debt Action NI gave him turned his life around."
Enterprise Minister Arlene Foster officially launched the service on Thursday.
"The addition of web-based delivery of debt advice is a welcome innovation, bringing the service to a larger client base and using technology to make optimum use of limited resources," she said.
"The telephone and web-based services will never be the only routes to advice, but they are a growing part of the debt remedy jigsaw. This new service will ensure each client is able to receive support through the delivery channel that is most closely aligned to their needs."