Peter Robinson pressed by new young Turks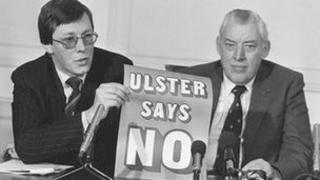 Peter Robinson was once the young Turk taking to the streets to challenge the powers that be, most famously over his opposition to the Anglo-Irish Agreement in 1986.
Now he is the first minister, and like unionist leaders before him, is facing a backlash from loyalists concerned over their cultural identity and relations with nationalists.
In 1974, Prime Minister Brian Faulkner watched from Stormont as loyalists demonstrated against the power-sharing deal with the nationalist SDLP.
Forty years on, Mr Robinson is viewing much smaller protests, sometimes violent street protests, sparked by the decision by Belfast City Council to restrict the flying of the union flag to designated days.
Both the DUP and veterans dismiss comparisons with Faulkner - insisting Mr Robinson is operating in a transformed landscape with scaled down protests and a significant base of support.
"I don't think the protests are in any way a threat to Peter Robinson or the leadership of the DUP because politics has changed in Northern Ireland. The electoral system has changed," former Ulster Unionist deputy leader Lord Kilclooney told BBC Northern Ireland's The View.
The DUP's East Belfast assembly member Robin Newton pointed to the record result Peter Robinson delivered for the DUP at the 2011 assembly poll, consolidating the party's position as the largest unionist party.
"He's no Brian Faulkner," he said.
However, Lord Kilclooney said there was a disconnect between working class loyalists and the assembly and suggested a new political party may spring from the protest movement.
He said: "I'm impressed at some of the young people who are now speaking on behalf of the demonstrators.
"They are quite articulate. There is obviously a new breed of politicians coming to the fore in Northern Ireland. They may get together and form their own political party. I think there is a case for it.
"What is generally referred to as the working class loyalist people don't really have spokesmen in the assembly."
On Thursday evening, a member of the Ulster People's Forum, Jonny Harvey, announced he was joining the PUP.
Much of the protest has been centred in Peter Robinson's constituency and has moved beyond grievances over the union flag coming down over Belfast City Hall.
There is clear hostility to him and the Good Friday Agreement from a post-troubles generation of loyalists who were children when it was signed.
Jamie Bryson, the 23-year-old who chairs the newly formed Ulster People's Forum, accuses Peter Robinson of "hounding" David Trimble from the first minister's office when the main partner was the SDLP in 1998.
"Peter Robinson made a comment in 1998 that the only cabinet the Provos should be in was made of wood with brass handles," he said.
"Peter Robinson has delivered the chief of staff of the IRA into the joint first minister's position in this country."
Others point to clear pressures on the first minister.
"He's in an extremely difficult job with his own hardliners," said commentator Roy Garland.
"Remember the whole background of that - I mean Paisley appealing to the most intransigent people. They are still in that party so their difficulty is bringing them along."
Mr Robinson has suggested this is just one of many challenges in a difficult process.
"Everyone recognised that we were in a process. That process will have its ups and down and difficult times. It will have its difficult times - it will have rocky moments," he said.
"And it is having that at the present time. But I believe the overwhelming desire of people in Northern Ireland is to have a peaceful and stable Northern Ireland."
The DUP leader also criticised the Ulster People's Forum, which has sprung from the protest.
He claimed they are bankrupt of thought after a suggestion that direct rule was an alternative to power-sharing with Sinn Fein's Martin McGuinness.
The response from Jamie Bryson?
"Peter Robinson dismissed us. I'm not sure what word he used, but he basically thinks we are a couple of eejits running about on the streets.
"So if Peter Robinson chooses to think that, then I don't think Peter Robinson should be worried at all. Maybe he should just get on with his work and not panic."
Despite Mr Robinson's call for a halt to protests, some DUP figures have been present on the ground - though it is not clear if this is a party split or a political tactic to keep grassroots on board.
What is clear is that the first minister's demands for the protests to end have been ignored.
"I have to admit he looks weak," said Mr Garland who urged Mr Robinson to get more involved in spelling out in detail what is required in future.
Mr Robinson has begun by setting up a unionist forum to address grievances around cultural identity.
The Ulster People's Forum is pursuing its own consultation across Northern Ireland. One of its key players, Willie Frazer, is set to contest the Mid-Ulster by-election this spring under a victim's banner.
His previous attempts at elections have failed to make much impact.
Mr Bryson would not be drawn on what might happen in the weeks or years ahead.
"It's a very fluid situation. In one sense that's the danger of it but in another sense that's the beauty of it. No-one knows where this is going to go," he said.