Craigavon Council to review Union flag policy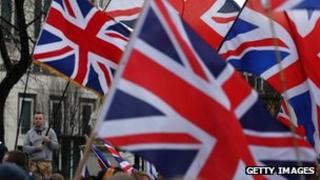 Craigavon Borough Council is to review the number of days the Union flag is flown from the council's headquarters and in the centres of Portadown and Lurgan.
The DUP proposal was passed at a meeting of the County Armagh council on Monday.
Currently the flag flies at the civic centre on 17 designated days.
DUP Assembly member Stephen Moutray said that it was an issue for people in the community.
"We're giving positive leadership within a a democratic forum," he said.
"That leadership is that Northern Ireland is part of the United Kingdom and a considerable number of people want the Union flag to be flown in a respectful and orderly way," he said.
Sinn Fein have criticised the decision, with councillor Johnny McGibbon describing it as a backwards step.
He said that if the policy was to be reviewed it should also examine the possibility of removing all flags.
"For the past 10 years, since 2002, Craigavon Council has operated a 'designated days' policy agreed by all parties and a genuine review could conceivably propose the removal of all flags from public buildings," he said.
"The DUP are raising this issue in response to death threats against and attacks on elected representatives, attacks, including a murder attempt, on the police, and illegal protests and the blocking of roads. In reality they are providing weak leadership."