David Black murder: Damien Joseph McLaughlin refused bail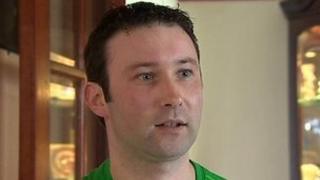 A man charged in connection with the murder of prison officer David Black in County Armagh has been refused bail.
Damien Joseph McLaughlin, from Kilmascally Road near Ardboe in County Tyrone, appeared at Craigavon Magistrates Court on Friday.
He is charged with supplying a car used by a dissident republican paramilitary gang who shot Mr Black as he drove to work on the M1 on 1 November.
The judge said the accused posed a serious risk of re-offending.
The 36-year-old denies obtaining the Toyota Camry car used in the attack and bringing it from Carrigallen, County Leitrim in the Irish Republic to Northern Ireland on the day before the murder.
'CCTV'
During his video link appearance, the court heard the accused attempted to get a battery for the vehicle.
A Police Service of Northern Ireland (PSNI) detective told the judge: "The evidence is that there is CCTV showing Mr McLaughlin in a shop very close to the car, making inquiries about a battery that would allow him to start the car because there was an issue with starting it."
"The Garda (Irish police) have evidence that Mr McLaughlin obtained assistance to start the car," the detective said.
However, defence solicitor Peter Corrigan told Craigavon Magistrates' Court that security camera footage did not show his client close to the vehicle and there was no evidence that he started the car.
"There was CCTV in relation to the car being in the Clogher Valley but no evidence linking my client to that," he said.
"There is no evidence linking him to starting a vehicle, using a battery or, more importantly, driving a vehicle," Mr Corrigan said.
Mr Black was the first prison officer to be murdered by paramilitaries in Northern Ireland for 20 years.