Kevin Fletcher, 62, found not guilty of murdering son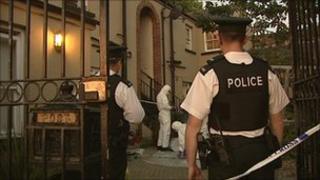 A man accused of murdering his son, has been cleared of the killing.
Kevin Patrick Fletcher, 62, had always denied stabbing Kevin Anthony Fletcher, 32, after giving him a lift home from bingo on 2 September, 2010.
The jury took an hour and a half to reach a unanimous verdict to acquit Mr Fletcher snr from Drumarg Park, Armagh.
The judge said the jury's verdict should not be seen "as an endorsement" of criticism of the police handling and investigation of the case.
The prosecution case had been that Mr Fletcher had stabbed his son in "an explosive outrage" and that the "tipping point" was his shame at his son "being a child molester" as well as being a drug dealer.
Threat
During the trial the defence had suggested that the police investigation of the murder had been somewhat flawed as they claimed there were any number of people, including an alleged "outraged husband", who could have fitted the bill as a possible suspect.
The defence had contended that the police were "in a rush to judgement" and that they failed to properly investigate a number of matters including damage to the door of the flat and the fact there were a number of people out looking for Mr Fletcher jr and these "other suspects floating about ..... should have been considered".
Defence QC Patrick Lyttle had also suggested that another motive besides anger, was one of simple robbery of Mr Fletcher jr, who was noted for being "keen on bling", but none of which was found or recovered from his flat after his murder.
During the trial the court heard that Mr Fletcher jr, who had used his mother's phone to call his father for a lift home, had told his landlord Patrick McGee, that a girlfriend had threatened to stab him or cut his throat.
The court also heard that Mr Fletcher snr picked up his son and drove him to his Castle Street apartment in Armagh where he lived alone. Mr Fletcher claimed after drinking some coffee with his son, he left him alive and well sitting on the sofa.
However, the following day, Mr Fletcher jnr was found dead on the sofa.
There was no sign of forced entry or struggle at his apartment, and no bolts had been locked shut.
Prosecution QC Terence Mooney had claimed this was an indication of his father's guilt as Mr Fletcher jnr had been fearful for his personal safety and had bolts fitted to the inside of his front door which he kept constantly locked when at home.
The lawyer had also claimed that Mr Fletcher jr, who had once attacked his own mother and threatened to do the same to his father with a set of dumbbells, was considered a burden to his family and his behaviour had created tension between his close relatives.
The court also heard that he had a history of mental health problems and in addition to being a drug user and dealer who had been threatened by paramilitaries, he had a conviction for a sexual offence and was under investigation over a series of historical sexual offences at the time of his death.