Union may consider legal action over DARD Ballykelly move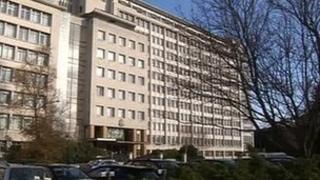 A civil service union is calling on the Department of Agriculture to put plans to move its headquarters from Belfast to Ballykelly on hold.
NIPSA - the Northern Ireland Public Service Alliance - said it has not seen any business case for the relocation of 800 civil service jobs.
The union says it will consider taking legal action if the department does not carry out an equality impact assessment.
The move is due to take place by 2015.
NIPSA's Assistant General Secretary, Kieran Bannon, said the union was not against decentralisation, it just wanted clarification as to why Ballykelly was chosen.
"We have no understanding as to why Ballykelly has been the location chosen. We do know other locations were considered, but we have no information as to why those locations were ruled out and Ballykelly ruled in," he told BBC Radio Ulster's Good Morning Ulster programme.
"We don't think relocation should be done just for relocation's sake.
"It has to make sense from an operational point of view and a financial point of view."
In a statement, the Department of Agriculture said it was committed to "fulfilling its statutory equality duties and will continue to work on advancing the relocation of its headquarters to a rural area by 2015 in line with the commitment contained within the NI Executive's Programme for Government."
After the move the department will be based at the site of the former Shackleton Army barracks.
The 800 staff who will be affected are currently based at Dundonald House in east Belfast.
Work will commence on the site as early as possible in 2013/14 with the new headquarters ready for occupation during 2015.