Carrickfergus man 'fired imaginary machine gun' at police during riot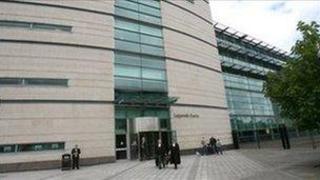 A Carrickfergus man allegedly fired an imaginary machine gun at police during street unrest in the town, a court has been told.
Brian McLean, 30, of Maple Gardens in Carrickfergus is accused of inciting protesters to riot, disorderly behaviour and failure to remove a mask worn to conceal his identity. He was remanded in custody.
The alleged offences occurred during a loyalist flag protest in the County Antrim town on the evening of Monday 17 December.
A detective constable who opposed Mr McLean's bail application at Belfast Magistrates' Court said this would deter others from becoming involved in trouble.
Defence solicitor Seamus Leonard stressed that his client was not accused of any actual rioting, or of throwing anything at the police.
"This is a man who was drunk and then with a dummy machine gun is shooting at police. That is what is alleged," the lawyer argued.
District Judge Fiona Bagnall refused bail due to the risk of re-offending, remanding McLean in custody until 2 January.
Meanwhile two other men, accused of blocking roads in Belfast, were granted bail subject to afternoon curfews.
Stephen Smith, 25, of Matilda Avenue, Belfast, and Tyler Thompson, 18, from Blythe Street in the city, are both charged with failing to remove disguises and obstructing roads.
The court heard how Mr Smith was arrested in connection with a protest at Great Victoria Street on Monday night.
A defence lawyer said his client went to the scene as a spectator, adding that there was no violence at that stage.
Granting bail to both Mr Smith and Mr Thompson, Judge Bagnall said each case had to be decided on its merits.
She imposed a maximum 12-hour curfew on both accused, starting from 1600 GMT.
Smith and Thompson were also each banned from having any flags, or going within 500 metres of demonstrations or parades.
Both men will appear again in court in eight weeks' time.