Antrim A&E "fully stretched" says sacked trust chairman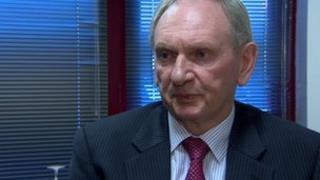 The former chairman of the Northern Trust has said the accident and emergency ward at Antrim Area Hospital is "fully stretched".
Mr Stewart was sacked by Health Minister Edwin Poots after targets for the unit were not met.
In a statement, Mr Stewart accused the minister of presiding over a culture of "intimidation and blame".
"In Antrim A&E we have no control on the number of patients that arrive or need admitted," he said.
"With capacity already fully stretched we have limited scope to deal with surges in demands. I have always desired the best for patients.
"No-one should have to wait excessively but we have a duty of care to staff to ensure that the required resources are available, more doctors, nursing staff and beds. Whilst a larger A&E department is being built it is simply unrealistic to expect the trust to meet targets without this capacity.
"If we still have 12-hour waits in January and February, I wonder will Mr Poots resign and apologise to the patients that have had to wait?"
When Mr Poots dismissed Mr Stewart last week, he said that he had fallen short of the high standards expected of someone in his position.
Mr Stewart said he had "no regrets" over his commitment and performance and that he "did not need a lesson in leadership" from the minister.
He said when he met the department's permanent secretary on 4 December he had been told that it was the minister who wanted him to resign and go quietly or else things would be "difficult".
"The only explanation that was given to me was that 'Poots had formed a view' that I should go," he said.
"Yet in the 18 months that Mr Poots has been in post he is yet to have a face to face meeting with me to discuss either the trust or my performance as chairman. Hardly best practice leadership or management."
Mr Stewart said there was "relentless pressure" in pursuing targets based on "political aspirations" which did not take resources and increased demand into account.
"I fear for the future of the health service under the present regime. Managers are pressurised into accepting unreasonable targets and employee morale is at an all-time low," he said.
"We have so many dedicated people working in the health service but if the service is to change and patient care truly improve, then we need an empowered and experienced trust board, whose performance is measured on an improved level of patient care not unrealistic targets that only seek to promote a political leaders mandate."
A spokesman for the Department of Health said that Mr Poots had made a full statement to the Northern Ireland Assembly on the reasons behind his decision to fire Mr Stewart.