Norman Moffatt murder: 'Innocent man implicated'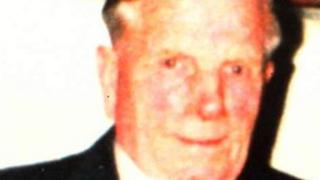 A Coleraine man accused of lying to police in a bid to implicate an innocent person in a pensioner's murder has been released on bail.
Alistair Henry, 49, faces a charge of perverting the course of justice over the stabbing of Norman Moffatt nearly 12 years ago.
Mr Moffatt, 73, was attacked as he walked home from buying his morning newspaper in Coleraine.
A 42-year-old man has been charged with the killing.
Mr Henry, of Sprucefield Drive, Coleraine, was arrested this week by detectives from the PSNI's retrospective major investigation team.
He is alleged to have made two false statements to police involved in the original murder probe.
In both he claimed to have seen a drinking associate of his in the area where Mr Moffatt was attacked at the time of the killing.
The pensioner was stabbed once in the stomach as he walked home along Railway Street in January 2001. He died two months later.
Mr Henry has now told police that his statements were fabricated.
He was granted bail by a district judge on Thursday, prompting the Public Prosecution Service into a High Court appeal of that decision.
Suzanne Gallagher, prosecuting, said Mr Henry claimed to have concocted his story after being "enraged" at being left out when his associate gave money to other drinkers.
"As a result of him misleading the police investigation away from the actual assailant and onto an innocent party this has, police say, impeded the investigation," she told the court.
Mrs Gallagher added that detectives do not accept Mr Henry's claim to have acted out of some form of vendetta.
She alleged that there may be "a more sinister reason" linked to him knowing the man charged with the murder.
But Francis Rafferty, defending, insisted his client's motivation was entirely down to falling out with another alcoholic over money.
"As Mr Henry put, 'He (the other man) was buying drink for other winos and not buying me any'."
Mr Justice Maguire refused the prosecution appeal after rejecting claims Henry could commit further offences or interfere with witnesses.
He upheld the decision to grant bail, ordering the accused to live at an address in Ballycastle.
Mr Henry was also banned from entering Coleraine or making contact with any prosecution witnesses.