Railway enthusiasts keep steam engine tradition alive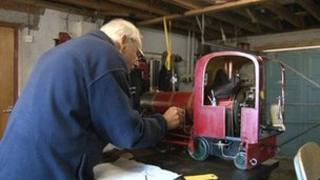 There's an old saying often used that "boys will be boys" and that is certainly the case for a group of men passionate about steam engines who meet in Cultra every weekend.
The men are members of the Model Engineering Society of Northern Ireland but they are not train spotters.
They build small locomotives from scratch and drive them around a specially built track at the Ulster Folk and Transport Museum.
Among them is Larne councillor John Matthews. He builds the engines in the garage of his east Antrim home.
"The standard of precision engineering in Northern Ireland 100 years ago was superb and in a way we're keeping those skills alive and it's worth doing," he said.
Northern Ireland is well known for its ship building heritage but often our railway history is forgotten.
Many of the tracks and stations across Ireland have become relics of a bygone age.
There are railway preservation groups and museums marking this once popular mode of transport - telling the stories of how a vibrant linen industry in Northern Ireland helped bolster the success of railways.
But it's the engineering expertise that makes railway and locomotives such a large part of our heritage.
I watch as a group of grown men tinker with engines and drive little steam trains around the large track within the walled garden of the Ulster Folk and Transport Museum.
There are also some youngsters joining in. One young boy drives an engine which looks exactly like the popular children's character Thomas the Tank Engine - blue bodywork, eyes and all.
David Heatley, secretary of the Model Engineering Society, said it's important the skills are passed to the young.
"It's very much to try and maintain the heritage, the engineering techniques and the skills that go with that," he said.
"First the boys learn about maintaining the engines and eventually they get to the stage where they want to make them themselves. They pick it up really quickly. It's not easy to drive a steam engine and maintain power but they can."
So as the men steam ahead they hope the youngsters coming behind them can keep Northern Ireland's steam engine heritage on track for the future.