New jobs as hotel opens in County Fermanagh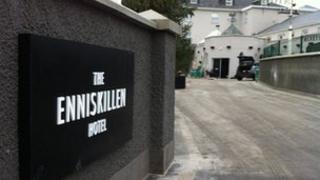 A new hotel has opened in Fermanagh with the creation of 33 new jobs.
The Enniskillen Hotel replaces the landmark Fort Lodge Hotel, which went into administration last year.
Last month, official figures suggested a big fall in the number of tourists coming to Northern Ireland.
But the new owners believe there will be a demand for beds, especially when the G8 summit is hosted at the nearby Lough Erne Resort next June.
Michael Cadden director of the Enniskillen Hotel said there was a great need for hotel beds in Fermanagh.
"We've obviously had the great news about the G8 coming to Fermanagh and there'll be a need for bed spaces," he said.
"There have been a few people who have questioned our sense in opening up at this stage.
"But we've looked at how Fermanagh's performing rather than just looking at the Northern Ireland figures and we feel there's a very strong forecast for Fermanagh next year.
"We have a very under-utilised tourist market, we have beautiful lakeside, we're starting to get all the other services needed for a strong tourism industry and we're just hopefully adding to that."
The hotel had more than 500 applications for the 33 full-time positions on offer and has recruited people who were previously out of work.