Conor Murphy gives evidence at Declan Gormley libel case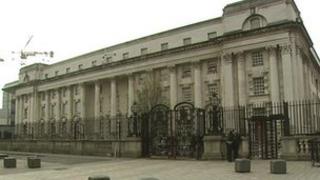 Newry and Armagh MP Conor Murphy has been giving evidence in a libel case in which Sinn Fein is being sued by a man he sacked from the board of Northern Ireland Water two years ago.
Mr Murphy told Belfast High Court that he was the victim of an SDLP campaign alleging he had "misbehaved" as a minister by dismissing Declan Gormley.
Mr Gormley is suing Sinn Fein for defamation.
The party denies two 2011 press releases were defamatory.
Sinn Fein claims they were issued in response to attacks by the SDLP, helped by Mr Gormley, who is campaigning to have his name cleared.
He and three other directors were sacked after an investigation uncovered multi-million pound procurement failings, but Mr Gormley denies ever having done anything wrong.
Conor Murphy was in the witness box for two hours on Thursday afternoon.
'Intense period'
He said as minister he became "increasingly concerned" that SDLP MLAs John Dallat and Patsy McGlone were advancing "a conspiracy theory... that the sacking was wrong and done for ulterior motives."
Mr Murphy said this was reflected "in a volume of Assembly questions that exceeded all other MLAs" and it was evident they had Mr Gormley's help.
During the 2010 'big freeze' water crisis, Mr McGlone had telephoned the DRD asking for an apology to be issued to Mr Gormley.
At the same time, Mr Dallat echoed the call in an Assembly debate.
Mr Murphy: "It was an intense period for the department and the executive. It was a period literally full on as the minister concerned.
"I was somewhat amazed that Mr Dallat and Mr McGlone focused on taking advantage of the crisis to press home a point relating to Mr Gormley."
He added that Mr Gormley and the SDLP were "essentially saying I had misbehaved or engaged in an abuse of power in public office."
During cross-examination, Mr Murphy said he had not had advance sight of the two allegedly defamatory news releases, issued in the names of MLA Cathal Boylan and former Assembly member Willie Clarke.
Mr Murphy will continue giving evidence on Friday and the case is expected to run until the following week.