Pauline Haveron lover Andrew Jones denies bath murder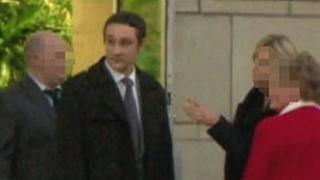 The lover of a woman allegedly murdered by her retired police officer husband has denied committing the murder himself.
Andrew Jones, 30, was cross-examined at the trial of Joseph Alfred Haveron, 58, from Farm Lodge Grove, Greenisland.
Mr Haveron, denies murdering his estranged wife Pauline, a part-time nurse, on 18 April 2010.
A defence lawyer suggested to Mr Jones that he had killed Mrs Haveron during an early morning row, which he denied.
QC Gavan Duffy said: "I suggest to you Mr Jones that you went up to this house, at about four in the morning, and you had a row with Pauline Haveron and during the course of that row you strangled her.
"You left the house leaving the patio door open and you went home and you stayed home and made no contact until 12.30pm the next day when you went back to the house and back through the patio door and that she was not taken out of the bath as you have described?"
Trial judge Mr Justice Treacy advised 30-year-old Mr Jones, a business intelligence analyst, that he was not legally obliged to answer the question as he did not have to incriminate himself. Despite the warning, he told the judge he was happy to answer.
"No I did not," Mr Jones said and also denied a further suggestion that during the supposed row there were raised voices and a car door slamming.
While she was found in the bath of her home at Huntingdale Green in Ballyclare, Mrs Haveron had in fact been strangled the jury heard.
Mr Jones, who was a friend of her son and who had been having an affair with Mrs Haveron, has described how he went to take her out for Sunday lunch on 18 April, but found her dead in the bath, frantically lifting her out before raising the alarm.
On Monday, he said he regretted not staying with her the night before the killing.
He claimed that as he left Mrs Haveron's house the night before, she had asked him to stay for the night but that he had said no because he wanted to wash his car the next day.
"It's something I have lived to regret," Mr Jones told the court.
He denied repeated suggestions that Mrs Haveron wanted to finish their relationship, telling that lawyer that although they had "tiffs" there were no major rows between them.
Mr Duffy put to him that according to text message traffic between them, it appeared that Mr Jones was concerned about her getting back with her husband to play "happy families" but again he denied that, claiming instead that he was worried Mr Haveron would "hurt her again".
Claiming that the accused could "manipulate" his wife, Mr Jones said he was concerned that "he could play her and have her confused all over the place."
He said that Mrs Haveron had insecurities because her husband had had an affair with a work colleague in the late 1980s.
The lawyer asked him if he was aware that in September 2009 Mr Haveron had given about £200,000 to his estranged wife. Mr Jones claimed he did not know as the matter "wasn't discussed with Pauline".
He did however concede that three weeks before her death Mrs Haveron had texted him saying she knew she was in line for more money and wanted his help to save it somewhere "in case something happens to me".
Mr Jones said he suggested she speak to her "businessman" brother as he would have been better helping her out, later telling the lawyer "no" when asked if he was struggling financially himself.
Mr Duffy suggested to him that other witnesses had given statements that the bathroom floor was not wet and that they had no recollection of Mr Jones' clothes being wet, asking if he had any explanation for that.
Mr Jones, however, claimed he could remember the bath water being up to his elbows when he dragged his lover out and, although he initially said he could not remember if his clothes were wet, he later claimed he remembered rolling his shirt sleeves up because they were wet.
He further claimed that when he got Mrs Haveron out of the bath the floor was "soaking wet" as was her body but the lawyer suggested when the police arrived "there was no water on her body".
Asked if he could explain that Mr Jones said he could not.
The trial continues.