Kevin Fletcher, 62, on trial charged with murdering his son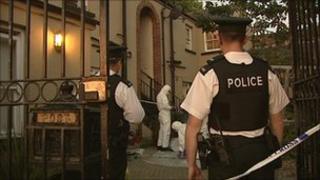 A 62-year-old man has gone on trial at Newry Crown Court charged with the murder of his son.
Kevin Fletcher of Drumarg Park in Armagh is accused of killing his son, also called Kevin, in September 2010.
The 32 year old, who was single and lived alone, was found with stab wounds in his apartment in Castle Street, Armagh.
A prosecution barrister said that there must have been "an explosive outrage" to prompt the attack on his son.
Outlining the case for the prosecution, the barrister told the jury of six men and six women, that the dead man had a history of mental problems.
He said he was a drug user and had dealt in drugs, mainly cannabis. He had been threatened by paramilitaries in Lurgan and had moved to Armagh.
The barrister said Kevin Fletcher Jr was fearful for his personal safety. He had had bolts fitted to the inside of his front door and kept them constantly locked when he was in the flat.
The court heard he had a conviction for a sexual offence and, at the time of his death, was under investigation over a series of historical sexual offences.
Mr Fletcher Jr had a promiscuous lifestyle, the barrister told the court. He said he was considered to be a burden to his family and that tensions were created by his behaviour.
The lawyer said that on the last day he was alive, he had been at bingo and called his father for a lift from his mother's phone.
Kevin Fletcher Sr took his son home and drank coffee with him. He would say that he left his son alive on the settee.
The victim was found the following day by his girlfriend and neighbours. There was no sign of forced entry or struggle, no bolts were engaged at the flat.
The prosecution would contend that a bloody imprint of the sole of a shoe on the floor of the living room was a size eight, the size worn by the accused. The shoe itself has never been recovered.
The prosecution's case is that the accused gave police a grey T-shirt that he claimed to have been wearing on the night of the murder. However, CCTV footage showed he was wearing a yellow T-shirt that has never been recovered.
The case also hinges on the times given by Mr Fletcher Sr for when he left his son's flat.
A doctor who examined Mr Fletcher Sr five days after the murder said there were no signs of bruising or abrasions to his body. He said he suffered from a range of illnesses, including Chronic Obstructive Pulmonary Disease (CoPD) and Hodgkin's Disease.
A psychiatrist told the court that he treated the victim, Kevin Fletcher Jr, for a personality disorder and depression. He said he had been admitted to hospital following a threat to assault his father with a dumb bell. The psychiatrist also said that Kevin Fletcher Jr had assaulted his mother on Christmas Day in 2009.
The trial continues