Woman injured in Desertmartin mini-bus crash dies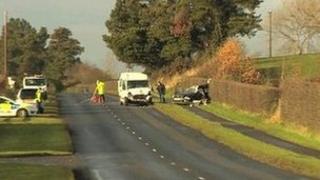 A woman critically injured in a road crash on Friday morning has died in hospital.
She was injured when her car was in collision with a mini-bus in Desertmartin in County Londonderry.
A number of school children were also hurt in the crash on the Roshure Road. The bus driver was treated at the scene for his injuries.
The woman died in Antrim Area Hospital on Saturday afternoon. Her name has not been released.