Sean Quinn Jr 'intends to purge contempt'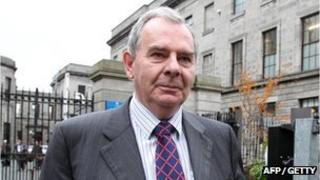 Sean Quinn jr has told the High Court in Dublin he intends to purge his contempt of court.
Miss Justice Elizabeth Dunne was told that he needed time to note lengthy correspondence from Irish Bank Resolution Corporation.
The judge said this sounded vpromising, and adjourned to 13 December.
Mr Quinn has already served a three month sentence in Mountjoy prison and his father, Sean Quinn Sr, is serving a nine-week prison sentence.
Sean Quinn and his family have been embroiled in a high-profile legal battle with the IBRC.
Anglo Irish bank was nationalised in 2009 and its affairs were taken over by the IBRC.
The IBRC claims the Quinn family owes it more than two billion euros and is trying to recover the money from their assets.
Lawyers for the IBRC alleged that members of the Quinn family have tried to strip assets from their firms, putting property worth millions of pounds beyond the reach of the bank, in defiance of a court order.
In July, Dublin High Court ruled that Sean Quinn, his son Sean Quinn Jr and his nephew, Peter Darragh Quinn, were in contempt of that court order.
At the time, Sean Quinn Jr was sent to jail for three months, while his father was spared prison to allow him to co-operate with the IBRC.
Peter Quinn did not show up for the sentencing in July and a warrant for his arrest was issued.
However, he has remained in Northern Ireland, outside the court's jurisdiction.
Sean Quinn Jr was released from jail after serving three months in Dublin's Mountjoy Prison.
At the height of his success Sean Quinn Sr employed more than 8,000 people worldwide, but the majority of the jobs were based near his home, bringing much needed employment to the border counties of Fermanagh and Cavan.
His family firms were badly affected by the property market crash and Quinn Insurance was put into administration in April 2010.
Exactly a year later, Sean Quinn Sr lost control of his entire business empire when it passed into the hands of the IBRC.
In January 2012, the businessman was declared bankrupt in the Republic of Ireland.
Mr Quinn accused the IBRC of wrecking his company and pursuing a "vendetta" against him and his family.