Strangford ferry 'operating at £4m loss over three years'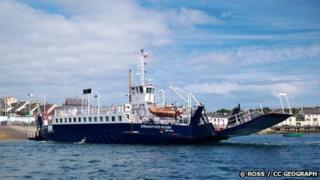 The Strangford Ferry service has been operating at a loss of more than £4m over the past three financial years, the BBC has learned.
The biggest deficit was last year when the loss totalled £1.7m.
The Department for Regional Development (DRD) which is responsible for operating the service, said it was, nevertheless, valuable.
It said it had no plans to decommission any of the ferries but is awaiting a report into how savings can be made.
The Strangford Lough Ferry Service provides an important transport link to the Ards Peninsula and is a subsidised public service.
A number of reviews into various aspects of the management and operation of the ferry service have been carried out by the DRD in the past.
Most recently, following a request from the Committee for Regional Development Committee, the department is preparing a report summarising the findings of these reviews.
The report will cover the potential for efficiency savings, the future of the MV Strangford and the level of service provided.