Murdered toddler Millie Martin was adorable court hears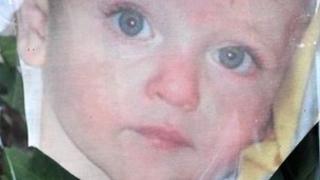 Murdered Enniskillen toddler Millie Martin was "happy, playful and adorable," a court in Dungannon has been told.
It is hearing transcripts of police interviews with Millie's mother, Rachael Martin, 27, of Main Street, Kesh, who is accused of allowing the 15-month old's death in December 2009.
Her former partner, Barry McCarney, 33, of Woodview Crescent, Trillick is accused of murdering the toddler.
Both deny the charges against them.
Rachael Martin was initially questioned as a witness in the months following the death of her daughter in December 2009.
However, in September 2010 she was arrested and interviewed under caution as a suspect.
In that interview, Rachael Martin told police her mother had "gone mad" when she told her Barry McCarney had offered to look after Millie because she was ill, rather than bring the child to her grandmother's house.
In the same interview, Rachael Martin said Millie had been clingy at her mother's house, that she kept getting better during the day, but then would go downhill again.
She added that, at the hospital on the night when Millie was brought in in a lifeless state, Barry McCarney said to her, "No matter what happens, I'll always love you."
But she said she "was in a mess" at the time and did not consider what he meant by the remark.
Injuries suffered by the toddler, including broken ribs, bumps, bruising and a burn were detailed during questioning.
Rachael said Barry McCarney had told her about the burn, saying that Millie had put her finger on the flame of a candle while Rachael was upstairs.
She said she had no idea how the toddler had sustained the rib injuries and said she could not recall seeing any bruising when she changed Millie's nappy earlier, the night she was brought to hospital.
During the interview, Rachael Martin broke down in tears, telling police she lived for her daughter.
"My whole life's just wrecked now," she said.