Londonderry City of Culture programme to be unveiled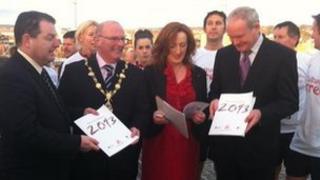 The official line-up of acts to mark Londonderry's year as the UK City of Culture will be announced later.
Derry beat off stiff opposition to win the title for 2013 - the first time it has ever been awarded.
Some events like The Turner Prize have already been confirmed for the programme.
Shona McCarty, the chief executive of the Culture Company, has often said the event will be a "game-changer for this city".
Derry was selected as the UK's first City of Culture in 2010.
Hundreds of events are expected to feature in the programme which is being launched at 12:00 BST.
The programme will arrive by speedboat, a marathon runner will then run with the programme over the Peace Bridge and deliver it to the mayor of Derry.
The chairman of the Culture Company Martin Bradley told the BBC that the city had undergone a "physical and psychological transformation".
"We're the first city of culture, there is no blueprint for this. All eyes are watching us to see how we do," he said.
"A huge amount of work has gone into this over the last 18 months. It's a superb programme."
The Turner Prize, a contemporary art award, will be held in the city. It is the first time the awards have been held outside England.
It has also been confirmed that Derry will host the All-Ireland fleadh (traditional Irish music festival) in 2013.
The fleadh attracts up to 300,000 visitors and is worth about 40m euros to the host venue.
Liverpudlian writer Frank Cottrell Boyce who worked on the Opening Ceremony of the Olympic Games in London told BBC Radio Ulster that he is involved in a special performance piece about city founder Colmcille.
"I've been brought in to work on the project on Colmcille. We are imagining him returning to Derry.
"I can't say much but it is going to be spectacular and it's going be be water based on the River Foyle.
"It is also going to involve at least 1,000 local people," he told BBC Radio Ulster's Good Morning Ulster programme.
Northern Ireland's Deputy First Minister, Martin McGuinness said he was "bursting with pride".
He said that he hoped the year long event would leave a lasting legacy.
"This is a fantastic opportunity for the city. People are becoming very excited. It's an incredible opportunity which will bring new jobs and help transform the city."