Millie Martin murder accused 'said blood was from resuscitation bid'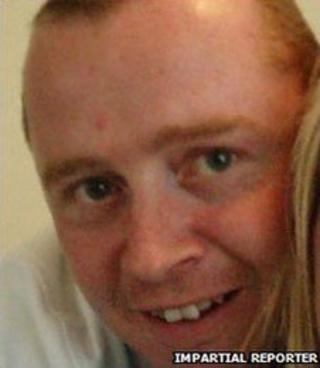 The man accused of murdering Millie Martin told police that he had blood on his clothes from his attempts to resuscitate the toddler.
Dungannon Court Court also heard that when Barry McCarney was arrested he told the child's mother, Rachael Martin, to trust him.
An interview Barry McCarney gave to police was read out in court on Tuesday.
It detailed what had happened the day before Millie was fatally injured.
Mr McCarney denies murder and sexual assault. Millie's mother, Rachael Martin, denies allowing her death.
The toddler died on 11 December 2009, a day after she was admitted to hospital in Enniskillen with serious injuries.
During his police interview, he said that changing Millie was "Rachael's department".
He said he sometimes looked after Millie while Rachael was at the shop but he was never left alone with the toddler for more than an hour.
He said he returned to the house at Glebe Park after taking Millie to the Erne Hospital to pick up clothes for Rachael and collect Millie's two teddy bears to bring to Belfast.
He said he put on trainers as he'd left the house in his socks and that he changed his top as there was blood on the sleeve.
He said he had nicked Millie's lip when he was breathing into Millie's mouth to resuscitate her and that he had wiped his mouth on his sleeve.
e said Millie was not eating and that Rachael was completely stressed and at one stage she burst into tears.
He said he had a very good relationship with Rachael and that they were also very good friends.
Mr McCarney said he did not want "anything to mess up in this relationship".
He said Millie's mother would use his nickname when putting the toddler to bed asking if she had a kiss for 'Barry Budgie'.
She always did, he said.
On the Wednesday before she died he said Millie looked as if she had a really bad dose of flu - Mr McCarney said she was limp and had no energy.
He said that even though he had two children of his own he had never once in his life changed a baby's nappy.
On Monday, the court heard Mr McCarney had told police he "tried to be a dad" to Millie.
He described her as "a beautiful girl" and that he did not know what had happened to her.