Belfast New Century Takeaway employed four illegal workers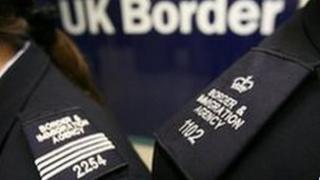 A Belfast takeaway is facing a potential fine of £40,000 after being found employing four illegal workers.
Officers from the UK Border Agency, acting on intelligence, visited the New Century Takeaway on Belmont Road, on Monday evening.
After questioning staff, a 39-year-old Chinese woman and three Chinese men aged between 20 and 37 were discovered to be working illegally.
They have been placed in detention in Larne House.
The woman and one of the men were found to have over-stayed their visas - the other two men were both working without permission.
All four, who were living in accommodation above the business, will be deported from the UK.
The business has been issued with a civil penalty notice for employing the illegal workers.
The UK Border Agency said if the employers are unable to provide evidence that legally required checks were carried out before giving them a job, such as asking for a passport or a Home Office document, they may be liable for a fine of up to £10,000 for each illegal worker.
Janet Wiseman of the UK Border Agency, said: "Foreign nationals who are in this country illegally should be in no doubt that they will be found, arrested and removed from the UK.
"Companies that think they can undercut competitors by employing illegal workers should be warned that they will face heavy fines and possible prosecution.
"We are sending a simple, clear message to people who are in the country illegally - more raids are planned and you will be caught."