GCSE exams review: NI pupils offered early re-sit option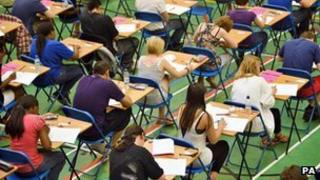 Pupils in Northern Ireland who took their GCSE English exam with the AQA exams board are to be offered an early opportunity to resit the test.
Stormont Education Minister John O'Dowd, made the announcement on Monday as he published Northern Ireland's review into AQA's 2012 GCSE results.
He ordered the local review following controversy over the grading of English GCSE exams in England, Wales and NI.
The review has found NI pupil's grades were "in line with previous years".
Mr O'Dowd said the results of the local review would help to restore confidence in the 2012 summer GCSE exams.
Concerns had emerged in August, when many pupils who had had been expecting a crucial C grade were given a D as a result of the mid-year changes.
A subsequent investigation by England's exams regulator, Ofqual, confirmed that grade boundaries had changed half way through the year.
It concluded that pupils who sat some GCSE English exams in January were marked more generously that those who took the same tests in June.
Complications
There was particular concern over grades awarded by AQA, which is based in England and has the highest market share for GCSE English exam provision.
More than 7,000 Northern Ireland students sat their GCSE English exams with boards based in England or Wales.
Within days, Mr O'Dowd commissioned the Council for the Curriculum, Examinations and Assessment (CCEA) - the NI exams regulator, to investigate the impact on local students.
Publishing the CCEA report on Monday, Mr O'Dowd said it raised a "number of issues", particularly the complications which arise by an exams system which operations "across three jurisdictions", namely England, Wales and Northern Ireland.
The minister said: "The CCEA regulator has found that the overall grade outcomes for GCSE English here were in line with achievements in previous years. The CCEA regulator's findings also confirm that awarding procedures operated in England and here were in line with the code of practice.
"While the overall picture may not raise general concerns, analysis at school level indicates issues with results in a significant number of schools.
'Teachers' expectations'
"For many pupils studying AQA GCSE English, grade outcomes have not been in line with schools' predictions or in line with last year's outcomes.
"It is clear that the complexity of the system, and the fact that grade boundaries are set on a three jurisdiction basis, have combined to impact on teachers' expectations of pupil performance.
"For this reason, I have decided that pupils who wish to re-sit their examination will be given the opportunity to do so at an early stage.
"It is important to note that this is just an option for pupils and those affected should speak to their teachers, parents and guardians to decide what is most appropriate for them."
He said local schools affected by the early re-sits would be given additional support if they needed it.
Mr O'Dowd confirmed he was accepting all six recommendations made by the CCEA report and he added the outcome of the review would "go some way to restoring confidence in the fairness of this summer's examinations series".