Matt Baggott answers Policing Board questions over recruitment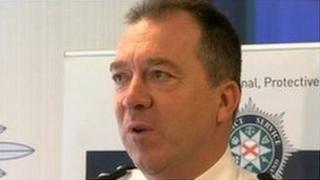 Police Chief Constable Matt Baggott has been speaking to the Policing Board about the PSNI's policy of rehiring retired police officers.
An Audit Office report found more than 1,000 former RUC officers who took Patten redundancy were later rehired.
Mr Baggott said the level of police scrutiny over hiring temporary staff in and around 2007 was not "adequate".
He said he understood the view that the rehiring of RUC officers could be seen as compromising the "spirit" of Patten.
Mr Baggott said the PSNI needed to be more transparent with the Policing Board on this issue.
He added that the police needed to work on the Audit Office report in a way which is unprecedented and he welcomed that as a great opportunity.
About 5,500 RUC officers were paid off under the Patten redundancy scheme - it was the most generous redundancy package in the world.
An Audit Office report on Wednesday revealed that 1,071 of them were later rehired as temporary agency staff.
The spending watchdog said that, at one point, the process was "out of control".
Under the Patten policing reforms, the RUC was replaced in 2001 by the PSNI as part of measures to attract more Catholic recruits and make the police more representative of Northern Ireland's population.
Catholics now make up about 30% of PSNI officers.
The report said the practice of rehiring reached its height in 2007 when more than 800 agency staff were employed, the majority of them former police officers.
It said the way the PSNI had recruited temporary staff had not always met with the high standards of governance and accountability expected of public bodies.
It also revealed that 64 agency staff are paid through limited companies, which can be a means of reducing the amount they pay in tax.
The report also revealed that in 2004, a £44m contract to employ temporary staff was awarded to a local company with no competitive tendering process.
The scheme was the most generous redundancy package in the world.