Agnew family 'struggling' after attack on their pet dog, Codie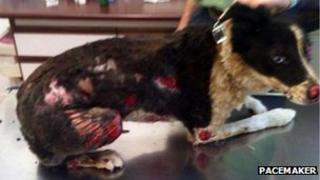 The owners of a dog that was set on fire in County Antrim have said their young children are "struggling" to come to terms with the death of their pet.
Their collie dog, Codie, was doused with flammable liquid and set alight in Maghaberry last month. She was put to sleep on Saturday night.
Her owners, Natalie and Martin Agnew, said the dog's pain became too much.
Natalie said watching Codie's suffering over the last couple of days had been "very difficult" for her young family.
The mother of two said the dog's condition gradually deteriorated in the weeks after the attack and Codie eventually lost the abilty to walk or eat.
"The pain was just getting worse as the dead skin was starting to come away. Each day we saw her deteriorating and we knew she wasn't going to last much longer as she couldn't take the pain much longer.
"She was on the strongest pain medication they could give her," Natalie explained, "It's been hard now, watching her."
'Scared'
Her husband Martin said Codie "did have good days and bad days, that why we always had the hope of, maybe she'll come through, but at the end it wasn't good."
Asked how her children were coping, Natalie said "not very well" and added that she feared they could be "scarred for life" because of the attack.
"One is very upset and crying a lot, the other isn't sleeping and he's scared of going anywhere out of our sight".
She added that the task of trying explain to her children why their pet was targeted was "very hard, when we don't understand ourselves".
However, the couple said they had taken comfort from the thousands of messages they have received since the attack.
Over 66,000 people have indicated their support on a dedicated page which was set up on the social networking website, Facebook.
'Heartwarming'
Martin described the support as "unbelievable" and said people from as far away as the United States, South African and Australia had been in touch to express their sympathy.
"It's been the only thing getting us through this. It's so heartwarming to know that so many people care and there's so many families out there who have family pets and understand the turmoil we're going through," Natalie added.
A police investigation into the attack which took place on Sunday, 26 August, is continuing.
Two people arrested in connection with the attack have been released on police bail pending further inquiries.