Loyalist band 'would welcome talks with Carrick Hill residents'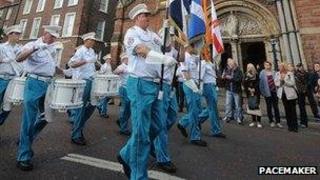 Talks between a loyalist band and residents angered by their parade past a Catholic church would be welcome, a community leader has said.
Several bands defied Parades Commission rulings as they passed St Patrick's Church on Donegall Street on Saturday.
Residents of Carrick Hill said at a public meeting they wanted respect from the Loyal Orders, not re-routing.
Winston Irvine of the North and West Belfast Parades Forum said he was happy to engage to move things forward.
He told the BBC's Good Morning Ulster a suggestion by Catholic parish priest Fr Michael Sheehan "for quiet conversation away from the public glare will be positively received by the band in question", the Shankill Road-based Young Conway Volunteers.
"If people are interested in settling this thing down and putting a perspective onto it then I would be glad to be part of that," he added.
Trouble erupted after bands defied restrictions put in place by the Parades Commission, banning them from playing music while passing the church.
The Young Conway Volunteers band also defied a ruling which barred them from marching past the church. It had been filmed walking in circles outside the same church while playing a contentious song on 12 July.
More than 100 people attended a public meeting about concerns surrounding the parade on Thursday, including two members of the Parades Commission.
Carrick Hill residents called on the marchers to show the church and their community "the respect they deserve".
Fr Michael Sheehan said: "The situation here could be settled, it could resolved - and it's simply to show respect.
"If that could be done, between the community, and with us as a parish and the loyal orders, then I think that we will be able to show other situations and other people that communities can come together, can agree."
Douglas Bain from the Parades Commission said he intended to report back to his colleagues the "very strongly held views and the real anger and concerns" that the residents had expressed during the meeting.
"That will help us in reaching any determination we have to make about further parades here," Mr Bain said.
Mr Irvine told the BBC on Friday the band's intention was to protest about the Parades Commission rather than to cause offence to residents or the congregation of St Patrick's.
"The parish priest has been the only one who has spoken any sense from across the church denominations - those other leaders have demonstrated an ill-informed position around this," he said.
"This was never about St Patrick's Church - the events of Saturday were the culmination of a very difficult summer brought about by absolutely outrageous decisions by the Parades Commission."