Irish charity Barnardos closes for a week due to cutbacks
14 August 2012

From the section

Europe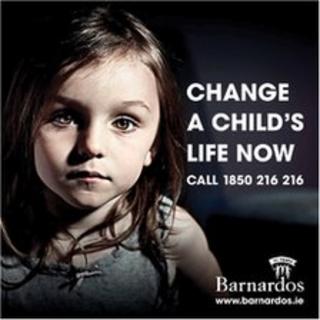 The children's charity Barnardos has closed all of its offices and services in the Republic of Ireland for a week.
It said the decision to close was taken in late 2011 as a cost saving measure to protect services to children and families.
Barnardos said the move was is in response to increased financial pressure.
The charity said it followed cuts to its statutory income and a decline in voluntary contributions.
"Our first priority is the children and families we work with," said Fergus Finlay, Barnardos chief executive.
"This cost cutting measure is the latest in a series of cuts Barnardos has had to make to ensure that we can continue to provide vital services to children and families at a time when they need us most.
"The savings in salary costs achieved by the week's closure will allow us to better manage the reduction in income and ensure that services can continue in the long-term.
"The decision to close the organisation for a week and save on salary in order to protect services was accepted voluntarily by the people who work in Barnardos, who are totally committed to the children and families we work with," he added.
The charity said all families and children who use its services were informed of the planned closure months in advance, as were Barnardos 400 staff and volunteers.
Impact
It said careful consideration was also given to the timing of the closure.
August was chosen as the time of the year with least impact as it is traditionally when Barnardos services to children and families are quietest.
While all of Barnardos services are closed this week, the charity's seven shops in the Republic of Ireland will remain open.
Barnardos celebrated 50 years of working to support children and families in Ireland in 2012.
Mr Finlay said the decision to close services was a reflection of the challenging times that Barnardos and other voluntary organisations were operating in.
"The funding cuts that are being imposed right across the sector have the potential to do untold damage to vulnerable children and families," he said.
"While every organisation that works with children is doing its best to cope, and staff are making substantial sacrifices themselves, the reality is that great pain is being caused.
"There is something deeply uncivilised about an economy that continues to cut support and services for the most vulnerable while paying billions to pay for the gross mistakes of public policy in the past."
Bardardos in the Republic of Ireland is separate from Barnardos in Northern Ireland, or the rest of the UK.
The children's charity was split into two divisions, one for Northern Ireland and another for the Republic, in 1989.
Barnardos Northern Ireland said it was not closing any of its services.