Hundreds take part in Ballymurphy protest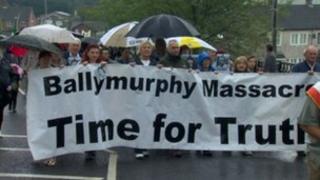 Hundreds of people have taken part in a demonstration in west Belfast calling for an inquiry into the killings in Ballymurphy in 1971.
The protest was organised by relatives of the ten people shot dead by paratroopers in 1971. A priest and a mother-of-eight were among those who died.
The Army said it fired in response to shots from republican paramilitaries.
However, the rally's organiser John Teggart said that was not the case.
"We are dedicated to clear my daddy's name - he was branded a gunman - he is totally innocent," he said.
"He was shot 14 times in the back and leg and thigh, so that's what needs dealt with and the government needs to start talking to Ballymurphy families."
The victims were killed over three days by paratroops during Operation Demetrius, when people suspected of paramilitary activity were interned.
In June, relatives of those killed said Secretary of State Owen Paterson told them an inquiry was "not in the public interest".
Last November, Attorney General John Larkin announced new inquests would be held into the Ballymurphy killings.