Newtownards food bank sees big increase in customers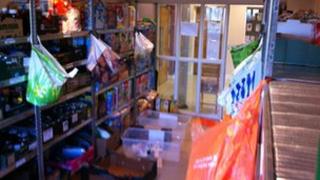 A food bank run by a church in Newtownards has seen a massive increase in the numbers of people availing of its service.
The Thriving Life Church began with six volunteers at the beginning of the year, but extra demand has meant this number has now risen to more than 90.
The service is the first of its kind in Northern Ireland.
It relies on non-perishable donated food such as tinned tomatoes, tinned meat, rice pudding, cereals and jam.
A minimum of three days' emergency food is then passed on free to local people in crisis.
Jim Clarke, one of the elders at the church, said he has been shocked at the rise of those in need.
"Whenever we started at Christmas we had an initial influx, but unfortunately it has just continued to rise," he said.
"The community are recognising there is a need and this is a way of helping.
"When people come, we give them a cup of tea or coffee and some buns and we've trained listeners there who just give people a bit of time."
He explained that the bank works in partnership with agencies in the town and people are referred via social services, the Simon Community, the Housing Executive, St Vincent de Paul and local MLAs.
"We have been shocked by the realisation that there are people out there who had good, well-paying jobs but have found theselves in this position."
Other churches across Northern Ireland and the Irish Republic have come along to see how the bank operates, with a view to setting up similar schemes.
Manager Julie-Anne Brownlee said she would love others to replicate the service elsewhere.
"Everybody deserves to have food on their table," she said.
"Some people have a job one day and the next they don't.
Volunteer Lawrence Thompson said: "It's all walks of life getting into trouble, no matter what level they are in life and it would very much surprise you."