And it's goodnight from me... Noel Thompson reflects on TV times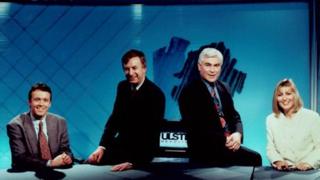 As Noel Thompson moves from television to radio presentation, he reflects on his many years on BBC Northern Ireland's evening news programme.
"Sean Rafferty's ill, can you do Inside Ulster tonight?"
That phone call from the news editor gave me about three hours to prepare for my first ever go at presenting BBC Northern Ireland's evening news programme.
That was 25 years ago, and I still have the video of that first attempt, which still has me looking like a rabbit in the headlights of a very fast approaching car.
It can't have been too bad a debut though, because within a short time I was one of the regular presenters, and apart from a brief pause in the mid nineties, I've been getting away with it ever since.
Changed realities
It has been an extraordinary couple of decades, and I have been very lucky to be at the centre of BBC NI's coverage of such a momentous period; from the last years of full conflict, through the two IRA ceasefires, the first Clinton visit, countless elections, the Good Friday Agreement and its endless post-crises, right through to the Saville Inquiry result and the Queen's visit to the Republic.
At times it feels like it was a breathless gallop, but we tend to forget those long periods when absolutely nothing happened for months on end, and the news horizon was empty.
Or empty at least of the world headline making news to which we all became rather addicted.
There is always news, and the challenge of the last years of relative stability has been to adapt the news agenda to the changed realities of people's lives, and to reflect the infinite variety of events that shapes those lives, from fleadhs to floods, from rugby to recession.
It has been an enormous pleasure to present with colleagues like Sean Rafferty, Rose Neill and Donna Traynor, and to build a relationship with our audience that makes you invite us into your homes night after night, trusting us to give you a fair and balanced account of the day's good and bad news.
I remember going into my local newsagent after a couple of years as anchor, and the owner saying to me: "You've really arrived now Noel!"
It seems I'd been in the day before and when I left the elderly woman in the queue behind me asked: "Is that yer mon?" Fame at last!
I suppose a news presenter should become part of the furniture of people's lives, like a favourite chair, unobtrusive, but comfortable and reliable.
I have certainly enjoyed my years in the hot seat, and hope you've not seen the last of me on BBC Newsline.
In the meantime I'm looking forward to a stint on the radio, and preparing myself for firing on all cylinders at half past six in the morning on Good Morning Ulster. Ah well, they say as you get older you need less sleep. I'm about to find out if that's true!