Ahoghill residents shocked at sale of new 'community garden'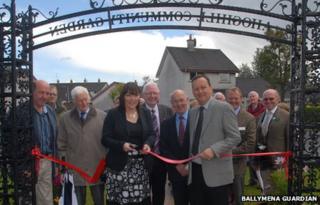 A County Antrim village is set to lose its recently opened community garden as the site is to be cleared and sold off.
Local residents and traders have spent about £7,500 transforming a piece of waste ground in Main Street, Ahoghill, with new plants and wrought iron gates.
However, the site is owned by the Roads Service which is in the process of selling off the land to a new owner.
A spokeswoman said they had not given approval for the garden and had warned residents that it was to be sold.
'Absolute disgrace'
The garden was officially opened to the public just days ago and the villagers invited representatives from the Royal Horticultural Society's Britain in Bloom awards to the event to show them what they had achieved.
The DUP's David McIlveen, said it would be "an absolute disgrace if this sale is allowed to proceed and Ahoghill loses this wonderful facility".
Speaking to the Ballymena Guardian, the North Antrim MLA said: "The garden is a beautiful space in the village, and has purely come about by hard work from a dedicated team and financial support from local businesses."
Ahoghill has held the Ulster in Bloom Best Small Town title four times and also won prizes in the UK-wide Britain in Bloom awards over the past two years.
It has been selected a finalist in the 2012 awards which are due to be announced in October.
Mr McIlveen said local residents and business had been "working tirelessly to spruce up the village and to ensure that it is looking its best" during the competition's judging period.
Stephanie Eynon, community horticulture manager at the RHS, said the sale of the garden would be "devastating" for a small community group which has done so much over the years to improve their village.
She said she hoped both sides could sit down together, engage in "constructive dialogue" and find an agreed way forward.
'No option'
In a statement, the Department for Regional Development's (DRD) Roads Service said it had "never given any formal approval allowing people to build a community garden on DRD land at Ahoghill village".
"Indeed, when Roads Service was alerted to the work going on on DRD land, Roads Service informed the people involved and told them they should not be building on the land and, indeed, informed them the land was for sale.
"The land is in the process of being disposed and for the sale to be completed, Roads Service has no option but to make sure the site is cleared for the new owner," the statement added.
They said they will work with Ahoghill residents "to discuss a reasonable timeframe for them to organise removal" of the garden.