Northern Ireland Westminster constituencies 'get reprieve'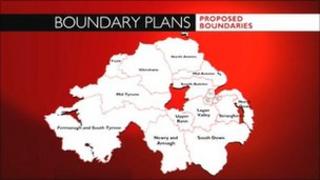 Two Northern Ireland Westminster constituencies slated to go under boundary changes could get a reprieve.
The Liberal Democrats withdrew their support for the coalition government's plan to cut the number of MPs by 50.
Belfast was due to lose one of its four seats, and another constituency would have been lost in the west under the planned Westminster boundary review.
However, Nick Clegg has accused the Conservatives of breaking the coalition contract over House of Lords reform.
As a result Mr Clegg, the deputy prime minister, has delayed support for the plan to cut the number of MPs.
It now seems certain that the proposed new seats will not be in existence before the next election, expected in 2015.
The delay in the Westminster review means an expected reduction in the number of MLAs from 108 to 96 will no longer take place automatically.
Stormont politicians have been considering the future size of the assembly but could not reach consensus.
Some politicians such as the South Belfast MP and SDLP leader Alasdair McDonnell and the DUP East Londonderry MP Gregory Campbell had been critical of the planned boundary review - so they will be relieved by its probable delay.