100% rise in hip and knee operation waits in Belfast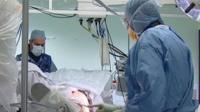 The number of people waiting in the Belfast Health Trust for knee and hip operations has increased by almost 100% in the past two years.
Figures obtained by the BBC show a dramatic rise in those having to wait for the procedures.
Under the NHS constitution in England it is a legal right for people to wait no longer than 18 weeks for an operation.
In Northern Ireland however that figure is 36 weeks.
'Unacceptable'
The trust is under tremendous pressure to meet its targets.
The Department of Health told the BBC: "Long waiting times for appointments are unacceptable and that's why the minister (Edwin Poots) has set targets that people should be seen within acceptable time scales.
"For patients waiting for an outpatient appointment, he expects that at least 50% of patients wait no longer than nine weeks, with no-one waiting for longer than 21 weeks, increasing to 60% by March 2013."
To help address backlogs in elective care waiting times, the department has allocated an additional £10m.
In a statement, a spokesperson for the department said: "The £10m would target specialities which are particularly at risk of falling short of the 2012/13 outpatient and inpatient waiting times targets - which include orthopaedics."
Within the Belfast Trust, there are currently more than 1,527 people waiting for knee and hip replacements - in 2012 there were 797.
Sue Ramsey, who chairs Stormont's health committee, said: "The questions that the trust need to answer is why has this occurred and what is the strategy to reduce this list.
"This is a problem that the Department must take very seriously and I would ask what pressure will they be placing on the Belfast Trust to see that this excessive waiting list is addressed with urgency."
Among those waiting is 66-year-old Maureen Lennox.
Initially Mrs Lennox, from County Down, was told she would have to wait nine months for a hip operation. Last week however, a letter from Musgrave Park Hospital said she would have to wait another nine months.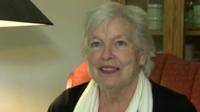 "The pain has been excruciating. Sometimes when I put my foot down the leg gives way and I fall over," she said.
"At the start I didn't mind waiting, but another nine months is just too much. I do get depressed and, with the pain, it's not a good way to be."
Obesity
While a lack of resources in the NHS is mainly to blame for the increasing waiting times, other issues include an ageing population and a sharp rise in the number of people in Northern Ireland who are obese.
People who are overweight are placing massive pressure on their joints. Where possible, consultants prefer patients to lose as much weight as possible before they carry out a hip replacement.
But according to those in that position it's a vicious circle.
Maureen Lennox has lost 19 pounds, but she has been told that is not enough.
"I used to swim and walk which helped me keep my weight down, but now I'm no longer active and it's difficult to keep the weight off," she said.
"But no one offered to help me to lose weight, it's hard to do it on your own."
It is a similar story in England.
Last year the president of the British Orthopaedic Association (BOA) told the BBC that surgeons were becoming increasingly frustrated that hip and knee replacements were being targeted as a way of finding savings.
Peter Kay said that in the long-term, hip and knee operations save society money.
'Amazing change'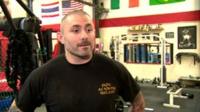 Pol Murray is co-owner of Fight Academy Ireland, a gym and martial arts studio in west Belfast.
Suffering from arthritis he was put on a waiting list for a hip operation in 2011.
He said as he owned his own business he was not entitled to sick pay - but many others who are 'on the sick' are only wasting resources.
Having waited just over 12 months, Mr Murray received his operation last month. He said the change has been amazing.
"It's people's lives we're talking about here - not just a number.
"I had to pay other coaches to come in and work in my business as I wasn't capable.
"If I'd been working for a private company they would have had to pay me sick pay. I have had to sit here for a year doing practically nothing."
As Mr Murray begins to exercise again he said it has not only improved his physical health but also his mental health.
"For six months I couldn't put on my own shoes, it was dreadful. But now I'm back and the operation has been a success," he said.
'Increased demand'
The BBC understands that other factors which are contributing to the waiting problem is a lack of consultant orthopaedic surgeons and a lack of theatres.
While there are approximately 36 surgeons, the feeling among some members of staff is a lack of planning has meant there are not enough surgeons to meet demand.
Maeve Hully, the chief executive of the Patient & Client Council, said the increase in waiting times for operations was affecting patients' quality of life.
She told BBC Radio Ulster: "You have people who are in a lot of pain and the other thing of course is, if you wait two years for surgery then you're going to be two years down the line, your recovery might be slower and your quality of life in the time that you've been waiting has deteriorated."
In a statement, a spokesman for the Health and Social Care (HSC) Board said: "We understand and very much sympathise with the frustration of some patients who have faced longer waiting times and who may be in pain."
He added the board was "working actively to deal with increased demand for orthopaedic surgery".
The spokesman said that HSC Board was "hopeful that patients in Northern Ireland will wait no longer than 36 weeks for surgery by the end of September of this year".