Ulster Bank sets aside £28m to cover cost of glitch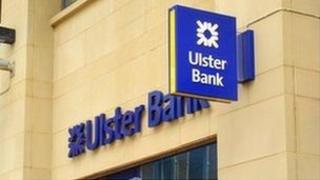 The Ulster Bank has made a pre-tax loss of £555m in the six months to the end of June - an increase of £12m from the same period last year.
Details have been released by the banks parent company RBS, which has lost £1.5bn
Ulster Bank has set aside £28m to cover the costs from the recent computer systems failure.
Some Ulster Bank customers were unable to access their accounts for almost a month.
The bank has written off more than twice as much as RBS UK Corporate or UK Retail divisions.
Technical glitch
Ulster Bank Chief Executive Jim Brown said: "A provision of £28m has been made at a group level for Ulster Bank costs arising from the recent group technology incident.
"Given the scale of the impact on our customers, we expect that there will be additional costs over the coming months as we continue the process of putting things right.
"We continue to work with our customers who are in financial difficulty on an individual basis to offer them appropriate support initiatives.
"Our forbearance arrangements are tailored to reflect individual circumstances and we continue to actively encourage our customers to contact us if they have any concerns about their financial health or are experiencing financial difficulty.
"We remain focussed on the recovery of our business - rebuilding our franchise, supporting the communities in which we operate and serving the needs of our 1.9 million customers across the island of Ireland."
A technical failure on 19 June affected many customers' accounts across the Royal Bank of Scotland (RBS) group.
Normal service was not restored to Ulster Bank customers until 16 July.