Hydebank governor Gary Alcock charged with misconduct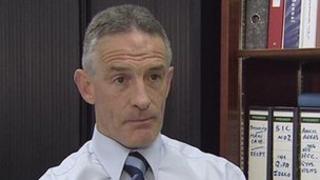 The governor of Northern Ireland's third largest jail has been charged with misconduct after an investigation into the circumstances surrounding the death of a 23-year-old prisoner.
It is understood Gary Alcock is accused of failing to properly investigate claims made by Frances McKeown.
She hanged herself in Hydebank Wood last May. There is no suggestion that his actions contributed to her suicide.
Mr Alcock was suspended as the prison's governor in May.
This came after concerns were raised by the prisoner ombudsman in an interim report into the death of Ms McKeown, a mother of two with a history of mental illness.
Those concerns have been investigated by an independent team from the Scottish Prison Service, who recommended a misconduct charge.
This is the first time in the history of the prison service that such a senior figure has been charged with misconduct.
It is understood Mr Alcock is accused of failing to properly investigate a claim by Ms McKeown about inappropriate behaviour between a prison officer and another female prisoner.
Her family have claimed she was then bullied by members of staff for making the claim.
This is the first major challenge for the new director general of the prison service, Sue McAllister, who took over the job last month.
Mr Alcock has now been charged with misconduct and has 14 days to respond. He is expected to robustly deny any wrongdoing.
If the charge is upheld, he will face disciplinary proceedings. It is understood the possible sanctions that could be imposed include demotion from his position as governor as Hydebank Wood - but not dismissal.
A spokesman for the Prison Service said it would not be appropriate to comment at this stage as disciplinary proceedings have been instigated.