Relatives speak to Claudy bomb suspect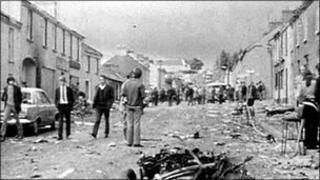 Relatives of those killed in the Claudy bombing of 1972 have spoken to one of the key suspects.
The man spent most of his life in the US and is now living in the Irish Republic. He was identified through intelligence reports as being involved.
Families of the victims say they cannot understand why more is not being done to bring the killers to justice.
Tuesday marks the 40th anniversary of the bombings in which nine people were killed.
In 2010, a report by the Northern Ireland police ombudsman first identified the suspect, known as Man A, as being a prominent member of the IRA gang which bombed Claudy in County Londonderry.
He was arrested by the RUC at the time but later released after telling police he was with the late Fr James Chesney at the time of the bombing.
Man A left Northern Ireland for the US shortly afterwards where he remained for 35 years.
He is now living in the Irish Republic where he was tracked down by a BBC Spotlight programme. He denied any involvement in the bombing.
Some relatives of the Claudy families have traced Man A and have questioned him about what he knows about the bombing.
They are angry that the police are not doing more to pursue the investigation.
Police say the investigation is still continuing but they say resources to complete the inquiry have to be balanced against competing current and historical demands within their caseload.
The Claudy bombing was one of the worst atrocities of the Northern Ireland troubles.
The NI police ombudsman report in 2010 said the police, the state and the Catholic Church had covered up Fr Chesney's suspected role in the bombing.
It found that detectives had concluded that Fr Chesney, who was later moved to the Irish Republic, was a suspect.
No action was ever taken against Fr Chesney, who died in 1980.
Northern Ireland Secretary Owen Paterson said that the government was "profoundly sorry" that Fr Chesney had not been properly investigated.