Tom McFeely declared bankrupt in Irish court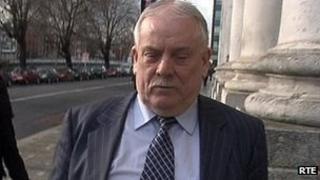 IRA hunger striker turned property developer Tom McFeely has been declared bankrupt at the High Court in Dublin.
Ms Justice Elizabeth Dunne ruled that Mr McFeely's centre of main interest was in the Republic of Ireland rather than the UK as he had claimed.
Mr McFeely was declared bankrupt in the UK but this was rescinded after a legal challenge by an unhappy customer whom he owes more than 100,000 euros (£78,000).
Dublin woman Theresa McGuinness fought the case on the basis that she had already started bankruptcy proceedings against him in the Republic of Ireland.
A series of Irish developers have sought bankruptcy in the UK, where the insolvency regime is less onerous.
In the UK the period of bankruptcy typically lasts for a year but in the Republic of Ireland it is at least three years and more commonly 12 years.
The High Court in Dublin held a hearing last week focusing on the location of Mr McFeely's centre of primary interest.
'British citizen'
Ms McGuinness argued that Mr McFeely had lived and traded in Dublin for 20 years and his companies were registered at an address in the city.
She said that in company documents he had filed in the UK in recent years, Mr McFeely declared himself to be Irish and living in Ireland.
Mr McFeely is a former Provisional IRA member from Dungiven in County Londonderry. He spent 53 days on hunger strike in the Maze Prison in 1980.
During the case, he claimed he was a British citizen and had been living in London since 2009.
Ms Justice Elizabeth Dunne said she was not impressed with the level of information supplied by Mr McFeely to Ms McGuinness.
The judge said Mr McFeely's claim to have lived full-time in London since 2009 was contradicted by an affidavit from his wife and by other company documents filed in the UK.
She said he had not listed his Irish bank accounts in the UK bankruptcy proceedings and had not mentioned that he was involved in legal proceedings in the Republic of Ireland.
Declaring him bankrupt, the judge said the only logical conclusion was that his centre of main interest was in Ireland.
Mr McFeely, who is one of Ireland's most controversial property developers, was not in court.
An arrest warrant has been issued in the Republic of Ireland over a 24,000 euros (£18,700) debt he owes to MCR Personnel, a company specialising in recruitment for construction firms.
Mr McFeely could face three months in prison for failing to pay the debt.