Education Maintenance Allowance could be cut in Northern Ireland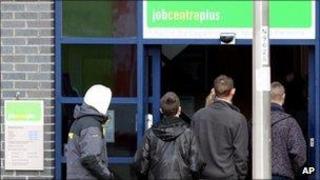 The payments given to teenagers in Northern Ireland to encourage them to stay in education could be cut.
The Education Maintenance Allowance (EMA) scheme gives 16 to 19-year-olds a weekly payment of £10, £20 or £30.
A review commissioned by two Stormont departments has found that the scheme could be better targeted at students from low income families.
However, student representatives have warned that proposed cuts to the lower bands of EMA would be "disastrous".
The scheme costs £28m per year in Northern Ireland and around 25,000 teenagers - a quarter of the age group - currently claim EMA payments.
Some also receive bonuses for finishing their courses in school or further education college.
Scrapped
However, Stormont is now seeking the public's views on plans to cut support grants for some teenagers in order to help those from less well-off backgrounds to stay in education.
All five proposals remove the lower payments and some would also reduce the higher payment and bonuses.
Scotland and Wales have already made similar changes and England has completely scrapped the allowances.
The consultation follows a formal review, commissioned by the Department for Employment and Learning (DEL) and the Department of Education, of whether the scheme is meeting its original objectives.
The DEL Minister, Dr Stephen Farry, said the research suggested that the money was a deciding factor for only a third of students.
Annoyed
"This indicates that the scheme could be better targeted at those young people from lower income families who otherwise would not have carried on with their post-16 education without the incentive of EMA," he said.
Education Minister John O'Dowd said: "We are determined that we target this support to where it is really needed, to ensure young people are not forced out of education and training for financial reasons."
The student body, the National Union of Students-Union of Students in Ireland (NUS-USI), said the proposals would mean thousands of 16 to 19-year-olds would not be able to continue in education.
The NUS-USI president, Adrianne Peltz, said: "I am extremely annoyed about the options announced in the consultation - they are nothing short of disastrous for young people here.
"The scrapping of the two lower bands of EMA would hit thousands of students around Northern Ireland very hard.
'Too expensive'
"Any cuts to EMA whatsoever will very seriously undermine NEET (Not in Education, Employment or Training) and skills strategies because when you slice away layers of support for students, you are effectively denying some people the chance to complete their studies as they won't be able to afford to.
"Any cut could see many young people being forced to quit their course to find a job to help make ends meet."
The UK government replaced the allowance in England last year, saying the £560m scheme was too expensive and poorly targeted.
It was replaced by a £180m bursary scheme.
Scotland and Wales have phased out the lower rate of payments and withdrawn bonuses to students.
The consultation runs until 2 November.