Murder accused Malcolm McKeown 'owed Hugh McGeough money'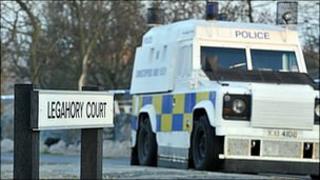 A man shot dead along with his wife in Craigavon had allegedly issued a death threat to one of those accused over the killings, the High Court has heard.
Prosecutors said they have evidence Hugh McGeough was owed £13,000 from the man they claim later organised the March 2011 double murder.
Mr McGeough and his wife were killed at their Legahory Court home.
Malcolm McKeown, 47, currently of no fixed abode, is one of two men to be charged with the murders.
Jacqueline McGeough, 44, was shot three times and her 56-year-old husband once.
It was alleged that they were involved in the drugs trade in the area.
Mr McKeown was originally accused of possessing a firearm and ammunition with intent after a revolver and two rounds of ammunition were discovered inside a plastic bag in Waringstown last July.
Forensic tests have confirmed it was the weapon used in the shootings, while McKeown's DNA is alleged to have been found on a misfired round.
He has since been charged with what was described as "an execution-style double murder".
Crown lawyer Philip Henry told a bail hearing: "It's the prosecution case that this murder was at the request of this applicant, and he provided the firearm and that the shooting itself was conducted by another individual."
The man alleged to have carried out the killing is 31-year-old James Carlisle, whose current address is Maghaberry Prison.
Mr Henry revealed that a witness claims Hugh McGeough went to Mr McKeown's home three weeks before the murder.
'Death threat'
"There was a debt owed to the deceased of approximately £13,000," he told the court.
"During the course of that meeting the deceased (allegedly) made a threat to this applicant which would have been perceived as a death threat."
Details of alleged telephone evidence was also set out, with claims of 21 different mobile phone contacts between Mr McKeown and Mr McGeough in a six-week period prior to the shootings.
Martin O'Rourke QC, defending, argued that the evidence against his client for the weapon possession charge was weak, based only on low-copy DNA.
He also set out an alternative claim that the murder was a revenge-killing, rather than drugs-related, and had nothing to do with Mr McKeown.
According to that theory, the shooting may have been carried out because of Mr McGeough's alleged link to a previous manslaughter, the court heard.
However, Mr Justice Gillen held that there was a prima facie case against Mr McKeown on the charges against him.
He refused bail due to the risk of interference with witnesses and possible further offences being committed.