Belfast City Council raises concerns over flood response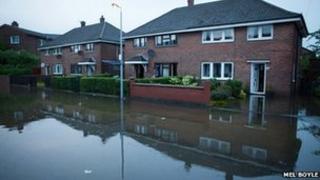 A Belfast City Council interim review of the emergency response to June's widespread flooding in the city has identified a number of shortcomings.
Torrential rain on 27 June flooded many homes and businesses across Belfast.
The council's initial review raises concerns about communication among agencies, the Flooding Incident Line, and the provision and distribution of sandbags.
A full, multi-agency review into the flooding is still ongoing.
The council's review has found there was no weather warning given in advance of the heavy rain, which began to fall at around 19:30 BST.
Confusion
While an emergency co-ordination centre opened in Belfast City Hall almost immediately, the review also stated that it took too much time to share information about areas of the city affected by flooding.
The Flooding Incident Line, operated by the Department of Finance and Personnel, is also criticised.
The review said that the line did not operate effectively "as it was not staffed up quickly enough".
"This resulted in the council receiving many repeat calls from irritated residents who had been directed to the Flooding Incident Line, but were unable to get a response."
In the immediate aftermath of the flooding, Finance Minister Sammy Wilson apologised to people who were unable to get through to the helpline.
The review also found confusion about who would supply sandbags to households at risk of flooding.
It said that the council was told Northern Ireland Water would "only deliver to the public where its infrastructure was causing a specific problem".
"Rivers Agency would only deliver to the public where it knew rivers to be the cause of the flooding," the review said.
Payments
As a result, the council had to employ a contractor to deliver the limited sandbags it was able to acquire on 27 June.
The response to the flooding is due to be discussed by the council's health and environmental services committee on Wednesday.
To date, the council has made emergency payments to 643 households affected by flood water.