Edwin Poots fired warning shots to scare intruders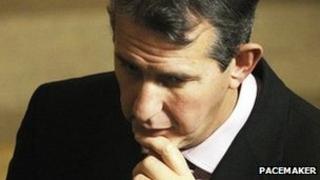 Stormont Health Minister Edwin Poots fired warning shots after finding intruders on his land, it has emerged.
The DUP assembly member fired his legally-held shotgun last month.
A police spokesman confirmed they had "received a report of persons acting suspiciously in the grounds of a property in Lisburn" early on 6 June.
A DUP spokesman said: "Unknown persons were observed on Mr Poots' property and only metres from the occupied house of a family member."
Confirming the story first reported by the Belfast Telegraph , he added: "Given the risk to Mr Poots and his family, a legally-held shotgun was safely discharged into the air by Mr Poots from within his house to alert the intruders that their presence was known.
"The police were then called by the family and are investigating the matter."
Legally-held guns are those for which a firearms certificate has been issued by the Police Service of Northern Ireland.
Police said it was understood "that shots were fired in the air by a householder".
"An investigation into the incident is ongoing at this stage," the spokesman added.