Jim Allister accuses SF ministers of discrimination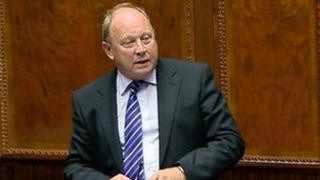 The TUV leader has accused Sinn Fein ministers of serial discrimination in appointing people to public office.
Jim Allister said it has been happening in the departments of regional development; culture, arts and leisure; and agriculture.
Sinn Fein described his claims as "pathetic".
In June, Sinn Fein's Conor Murphy said he "absolutely refuted" an industrial tribunal that found a Protestant had been overlooked in a senior role.
The outcome of the tribunal said that Alan Lennon, a Protestant, was overlooked for the post of chairman of Northern Ireland Water because of his religion when Mr Murphy was regional development minister.
It found that evidence by the then minister Mr Murphy was "implausible and lacking credibility".
Deputy First Minister Martin McGuinness spoke out in defence of his Sinn Fein colleague and said he did not have "a sectarian bone in his body".
The department was given six weeks to appeal the judgement, given on June 20.
Mr Allister said he had asked other Sinn Fein controlled departments to provide the success rates for Protestants and Catholics in ministerial appointments since May 2007.
He said Culture Minister Caral Ni Chuilin replied to the assembly question giving the appointments since May 2011 when she came to office.
The TUV leader said that the minister answered that 14 Catholics were appointed out of 71 applicants.
He added that six Protestants were appointed out of 70 applicants. Mr Allister said he was informed that 18 further applicants were from a neither or unknown background, and eight of these were successful.
Ms Ni Chuilin's response also highlighted that 12 Protestants and nine Catholics were re-appointed for a second term in a job.
"If you are a Catholic applicant you are twice as likely to receive an appointment as a Protestant," he said.
"The facts speak very loudly," he said.
"My role is to point it put and draw public attention to it."
Mr Allister said Agriculture Minister Michelle O'Neill had responded to the same assembly question presented to her department.
He said 20 Protestants were appointed out of 159 applicants, compared to 24 Catholics appointed out of 72 applicants. A further two were appointed from 14 who had not declared their religious affiliation.
Sinn Fein issued a statement responding to Mr Allister's claims.
It read: "All Ministerial public appointments follow the principles set out in the Commissioner for Public Appointments code of practice and appointments competitions are regulated by the Commissioner for Public Appointments.
"Jim Allister's attempts to introduce sectarianism into every debate are pathetic."