David Ford wants more community service in Northern Ireland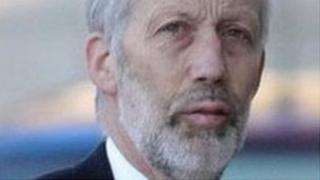 Justice Minister David Ford is to introduce legislation encouraging greater use of community service.
Mr Ford rejected claims that community sentencing was a "soft option" for those who had broken the law.
The minister said offenders who had completed a community sentence were less likely to re-offend than those who had served a short prison sentence.
He confirmed, however, that sentencing in individual cases would ultimately be for the courts to decide.
Mr Ford, was speaking in Londonderry on Tuesday where he met staff from the Waterside Probation Service office.
"The statistics underline the success rate of community sentences in breaking the cycle of crime," he said.
"Some 75% of adult offenders who receive a community sentence do not go on to commit further crime over the next 12 months.
"Compare this with the statistics on re-offending rates for those who serve short prison sentences and the figures speak for themselves."
Convicted
He confirmed that as part of his commitment to reduce re-offending, he intended to bring forward legislation to encourage the greater use of community sentences.
Included as part of the Faster Fairer Justice Bill to be introduced into the assembly next year are provisions on community sentences being the preferred method of dealing with offenders, convicted for less serious offences, who would otherwise get custodial sentences of three months or less.
Mr Ford said the proposal was consistent with the majority of responses to the public consultation and in line with the recommendation from the Owers Report.
"Custody should be used to protect society from the most dangerous criminals who pose a risk to the public," the minister said.
"In cases where offenders do not pose a risk, I want to encourage the use of community sentences rather than short prison sentences.
"Community sentences, where an offender can repay his debt to society by working on projects serving the community under the supervision of Probation Service staff, has proved to be more effective in reducing re-offending.
"Over 40% of offenders who are given a short prison sentence of three months or less are convicted of another crime within the next 12 months. For those on a community sentence, the figure is 25%.
"Sentencing in the individual case must remain a matter for an independent judiciary and under these proposals, judges would still be able to sentence an offender to custody if they consider it appropriate."