Lyric Theatre short-listed for RIBA Stirling Prize for architecture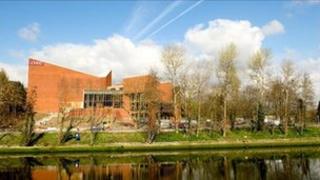 Belfast's Lyric Theatre has been short-listed for the 2012 Stirling Prize by the Royal Institute of British Architects (RIBA).
The new theatre, which cost £18m, opened last May. It made the shortlist which includes six buildings from across the UK.
The other buildings short-listed are: London's Olympic stadium; Maggie's cancer centre, Glasgow; Hepworth Wakefield gallery, Yorkshire; the Sainsbury laboratory, Cambridge and the New Court Rothschild Bank, London.
The winner will receive a £20,000 prize from the RIBA at an event in Manchester on 13 October.
The RIBA Stirling Prize is now in its 17th year.
The president of the Royal Institute of British Architects, Angela Brady, said there was an "incredibly strong list of contenders" this year.
"All of the short-listed buildings demonstrate the essence of great architecture; they are human-scale buildings, places to inspire, entertain, educate and comfort their visitors and passers-by," she said.
"Every building not only works beautifully from within, but has a superb relationship with its surroundings, with a strong interplay between the two.
"The 2012 RIBA Stirling Prize judges have a difficult job to select a winner from this pool of great talent. I can't wait to see which project they choose."