Hillsborough relatives meet Bloody Sunday campaigners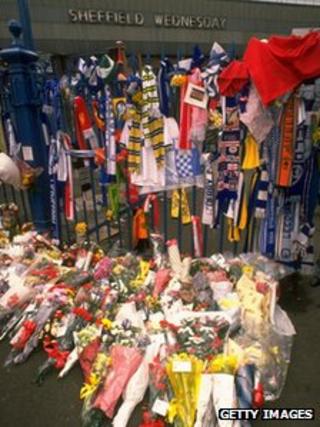 Relatives of football fans who died in the Hillsborough stadium disaster have travelled to Londonderry to meet Bloody Sunday campaigners.
Ninety-six Liverpool supporters died in a crush on overcrowded terraces at an FA Cup semi-final in April 1989.
The inquiry led by Lord Chief Justice Taylor established the main cause was a failure of police crowd control.
Campaigners say they have been inspired by the perseverance shown by relatives of Bloody Sunday victims.
The 12-year Saville Inquiry into the events of Bloody Sunday, in which 13 people were shot dead by soldiers, found the Army had fired the first shots and were to blame for what happened.
Prime Minister David Cameron issued an apology, describing what happened as "both unjustified and unjustifiable".
The Hillsborough Independent Panel is due to make its findings public on 12 September.
It has analysed more than 400,000 pages of documents from 80 organisations relating to the disaster.
Families of those who died hope the panel's findings will shed new light as to exactly what caused the tragedy.
'Traumatic time'
Shadow health secretary Andy Burnham was among the delegation in Derry on Thursday.
Margaret Aspinall, who lost her son James at Hillsborough and is chair of the Hillsborough Family Supporters Group, said: "We wanted to get advice from them about how they coped when the report came out.
"They gave us so much positive information that will be a help to us, because we know when this report comes out it will be a traumatic time."
Foyle MP Mark Durkan said they had "left with a lot of ideas on how the families might get more ownership and better shape" ahead of the report's publication.
"It was recognised that whilst the legal nature and parliamentary standing of the two inquiries and reports might be different, a lot of the issues of principle, media presentation, primacy of victims' families and potential impact of the report are similar," said the SDLP MP.
"The Hillsborough relatives told me that they were lifted by the ideas and guidance they received from this visit and will be calling on further advice as they navigate and negotiate their requirements and concerns over the next few weeks."
The Cabinet Office is carrying out an inquiry after some documents were leaked to the BBC earlier this year.
The most controversial element of the papers seen by the BBC was a briefing note to then-Prime Minister Margaret Thatcher, days after the disaster, that an unnamed senior Merseyside Police officer wrongly blamed drunken Liverpool fans for the disaster.
Lord Justice Taylor's official report into the disaster, in 1990, said the "great majority [of supporters] were not drunk or even the worse for drink", and that "some officers, seeking to rationalise their loss of control, overestimated the drunkenness in the crowd".