Peter Robinson and Martin McGuinness hit out at 'clumsy' and 'ill-advised' Paterson speech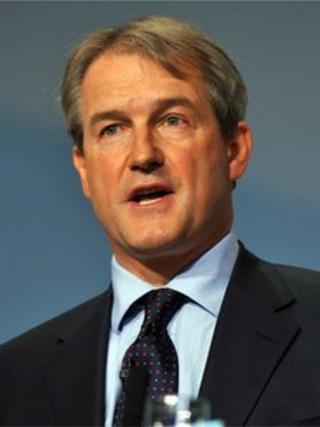 Northern Ireland's first and deputy first ministers have both criticised the secretary of state for a speech he made about the Stormont Executive.
Owen Paterson hit out at the Executive over the delayed publication of a community relations strategy and said NI was still "deeply divided".
First Minister Peter Robinson said Mr Paterson's remarks were "ill-advised".
Deputy First Minister Martin McGuinness described the secretary of state's speech as "clumsy and ill-thought out".
'Open warfare'
Mr McGuinness said it was "ironic" that Mr Paterson had chosen to criticise the Executive for failing to deliver "on the day after a significant statement from Peter Robinson and myself outlining agreement across a whole range of issues, including the ones identified by him".
"Either Mr Paterson is so detached from politics here that he missed this statement, or he chose simply to ignore it for his own political reasons," the deputy first minister added.
Mr Robinson said such "highly political comments are unfortunate given the significant progress that has been made across a range of policy areas this week".
The first minister added that it was "rich for Mr Paterson to lecture people in Northern Ireland about good government" when the coalition government in which he is a cabinet minister is "stumbling from one crisis to the next".
Mr Robinson added: "Many within Northern Ireland will consider the secretary of state's comments as ill-advised when they look at the relative stability of the Northern Ireland Executive and compare it with the on-going open warfare in the Westminster coalition."
Mr Paterson made his comments on Thursday in a wide ranging speech to members of the International Institute of European Affairs, a think tank based in Dublin.
"It is profoundly disappointing that we are still awaiting publication of the Cohesion, Sharing and Integration strategy from the Executive," he said.
'Partisan'
The Cohesion, Sharing and Integration Strategy (CSI) aims to improve community relations and integration in Northern Ireland.
His comments came after the Ulster Unionist Party (UUP) said it is to leave the group examining this issue.
Mr Robinson said Mr Paterson "should also have noted that his UUP friends want us to delay the decision (on CSI) further but I note the secretary of state had no criticism for them."
The first minister added that Mr Paterson "has a growing track record of making partisan political points in an attempt to bolster his latest party political project in Northern Ireland".
The UUP entered an electoral pact with the Conservative Party in 2010, months before the last General Election, but both parties have since gone their separate ways.
Mr McGuinness accused Mr Paterson of "seeking to use the bogus notion of a failure of the Executive to deliver" as a cover to begin a debate on undermining the power-sharing and equality provisions of the Good Friday Agreement.
'Carved up'
During his speech in Dublin, themed "British-Irish Relations in the 21st Century", the secretary of state also spoke about the Queen's visit to the Irish Republic last year and added that "politics in Northern Ireland is more stable than at any time in over a generation".
However, he later added that more needs to be done regarding a shared future, saying that "for all the progress in recent years, Northern Ireland remains at many levels a deeply divided society".
He said difficult decisions lay ahead and added: "We cannot have a Northern Ireland in which everything is carved up on sectarian grounds."
The secretary of state also said he would publish a consultation paper shortly with details on how the political institutions at Stormont might evolve in the years ahead.
He said this would include "the size of the Assembly, the length of Assembly terms and ending dual mandates."
He said that consultation should include questions over whether "it is desirable in principle for the institutions to move to a more normal system of government and opposition and, if so, how this might be achieved".
'Out-of-touch'
Mr Paterson said such changes could happen over time but must have "widespread support across the community".
He said such moves should be consistent with inclusive government and in line with the Good Friday Agreement.
However, the Shadow Secretary of State for Northern Ireland, Vernon Coaker, said Mr Paterson's comments were "inappropriate and unhelpful".
"It may be that in due course the Northern Ireland parties decide that changes should be made to the current arrangements at Stormont. But that debate should be led by them and not prematurely ordered by this out-of-touch secretary of state," Mr Coaker added.