UUP withdraws from CSI Stormont working group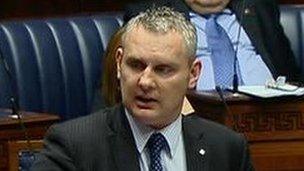 The Ulster Unionist Party has said it will leave Stormont's Cohesion Sharing and Integration Strategy group.
Peter Robinson and Martin McGuinness issued a joint statement on Wednesday saying that agreements had been reached on a number of policy areas.
The UUP claims the announcement "demonstrates clearly the contempt they hold for the political process".
The CSI strategy is aimed at promoting better community relations and greater integration in Northern Ireland.
The UUP had previously criticised the Alliance Party when they withdrew from the group.
UUP Deputy Leader John McCallister said: "The timing and manner of the announcement by the First and deputy first minister demonstrates clearly the contempt they hold for the political process.
"They are not interested in inclusive politics, they have forgotten the hard lessons of the peace process and they have demonstrated that their approach to a shared future is disingenuous.
'Sour grapes'
"There is no point in carrying on discussions in such an environment.
"Only if all parties are actively engaged can genuine agreement be reached.
"By announcing their statement in the middle of the holiday season they demonstrate clearly their disdain for the democratic process and the rather low value they place on the opinion of others.
First Minister Peter Robinson accused the UUP of "engaging in sour grapes".
The DUP leader said he and the deputy first minister were demonstrating their commitment to deliver on issues of importance to the public.
Deputy First Minister Martin McGuinness of Sinn Fein said he was "disappointed but not surprised".
"I think some parties relish the prospect of being able to portray our work at the Executive as being in a logjam and not being able to take decisions," he said.
"Now we've taken some powerful decisions which will see free-flowing legislation in the assembly come September."