Mauritian editor on Michaela photographs charge faints in court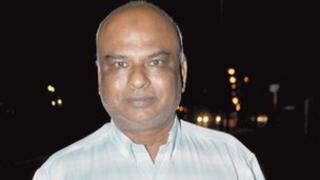 The editor of the Mauritian newspaper that published pictures of Michaela McAreavey's body has been taken to hospital after fainting in court.
Imran Hosany was appearing on charges believed to be related to the publication of the photographs.
His barrister said he denied the charges against him.
Mrs McAreavey, 27, from County Tyrone, was killed in her room at the Legends hotel in Mauritius while on her honeymoon in January 2011.
Cardiac patient
Mr Hosany, who is the director and editor of the island's Sunday Times newspaper, spent the night in police custody at the Alcatraz Detention Centre.
According to his lawyer Yakil Bissessur, Mr Hosany is a cardiac patient with high blood pressure.
"His family brought his pills this morning but police didn't allow him to take them", said Mr Bissessur.
Mr Hosany fainted before the court proceedings could get under way, but regained consciousness after more than an hour.
On Wednesday, he was charged with outrage to public and religious morality for publishing photographs of Michaela McAreavey at the murder scene in her hotel room.
Investigation
The offence carries a punishment of up to a year in jail under Mauritius law.
He is also accused of assaulting an Irish photographer.
Meanwhile, Northern Ireland Deputy First Minister Martin McGuinness has been meeting Mr Mohammed Iqbal Latona the Acting High Commissioner in London to discuss the trial.
Legends hotel workers Sandip Moneea and Avinash Treebhoowoon were cleared last Thursday of Mrs McAreavey's killing by a jury at the Supreme Court in Port Louis.
Mr McGuinness has suggested that senior detectives from the PSNI and Gardai assist in a case review of the investigation into the murder.
He also said he would be writing to the Attorney General in Northern Ireland to seek legal opinion on whether any future trial had been in any way prejudiced or compromised by the actions of the newspaper.
The Mauritius prime minister has agreed to invite officers from both forces to help and ordered a judicial enquiry to re-examine the case.
Northern Ireland First Minister Peter Robinson said the Mauritian prime minister had written to him, indicating his willingness to have Scotland Yard give assistance.
"The authorities in Mauritius recognise that they have not covered themselves with glory in terms of the way the investigation was handled," he said.
Mr Robinson added: "The way the courtroom proceedings unfolded, with senior lawyers considering it a matter of comedy routine, while we are dealing with the murder of a young woman on her honeymoon, seems utterly preposterous and something that would never happen here."