NI construction industry shows 'tentative recovery'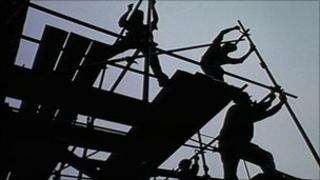 The NI construction industry may be showing tentative signs of recovery according to official figures.
The total volume of construction output in the first quarter of 2012 increased by 1.3% compared to the same period in 2011.
Output has also shown quarter-on-quarter growth over the last three quarters.
But the current levels of output are still around 40% lower than peak output in 2007.
The industry had been stuck in a deep depression after the bursting of a property price bubble led to four years of falling output.
Thousands of jobs have been lost in the sector and a significant number of firms have gone out of business.
Most of the big construction firms have had to refocus on markets outside Northern Ireland and profits margins have been squeezed by intense competition.
The Northern Ireland Statistics and Research, NISRA , which produces the figures, said that while the increases in output over the previous two quarters were relatively small, the latest increase is much larger.
It said total output is approximately £30m more than the last quarter of 2011.
However it cautioned that part of the increase may have been influenced by some large-scale infrastructure projects in the first quarter of 2012.
The NISRA figures also point to the continuing weakness of the housing market as housing output fell by 3.2% over the quarter.
Meanwhile the Royal Institution of Chartered Surveyors (RICS) Construction Market Survey suggests that the industry remained 'firmly in the doldrums' in the past three months.
It said that most chartered surveyors in Northern Ireland reported declining workloads.
RICS Northern Ireland construction spokesman, Jim Sammon, said: "There have been some important announcements of public sector projects, but it remains to be seen what impact this will have on workloads in the coming quarters.
"For now, across the board, Northern Ireland's construction sector continues to experience a severe recession and the expectations of chartered surveyors are for this to continue over the next 12 months."