Game of Thrones: On set of the hit TV show in Northern Ireland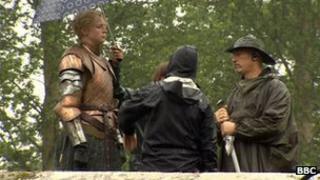 It's been described as the "Sopranos - set in Middle Earth" and it's a television series which has wowed audiences all over the world, especially in the United States.
HBO has just started filming the third series of hit show Game of Thrones in Northern Ireland.
Game of Thrones is a mediaeval fantasy series which is based on the books of George R R Martin.
For the first time reporters have been allowed onto the set during filming.
We have been sworn to secrecy about the story lines that we have seen.
Series three will be filmed over 180 days across Northern Ireland with additional filming in Morocco, Iceland and Croatia.
Soon all six counties will be able to claim they played some part as a location.
New cast members
July in the pouring rain saw the team in the sprawling Shane's Castle estate in county Antrim.
Cast dressed in leather and dusty fabric mediaeval costume, but protected by very modern raincoats and cheery umbrellas contrast with the sword fighting action on a country bridge.
Nicolaj Coster-Waldau, best known to fans of the show as Ser Jamie Lannister, and Gwendoline Christie, who plays Brienne of Tarth, were among those on the set at Shane's Castle.
The Northern Ireland scenery has a starring role in the production.
Naomi Liston from Edinburgh is a locations manager and even after scouting for exteriors for three series says they have only just scratched the surface of possibilities. "One of our methods is to get lost for a day, go down country roads and suddenly find fantastic vistas or a tumble-down old mill we can use."
Ms Liston says she hopes filming for future series will continue in Northern Ireland.
It is an expensive series to make, creating a fantasy world of warring families which has been likened to the Sopranos of Middle Earth, but the money offered by Northern Ireland Screen is an incentive.
The pilot programme and the first two series attracted funding of £6m, but that money has been shown to have brought in £40m to the local economy.
Fourth series
Another £3.2m of public money will go towards the series currently being filmed.
Frank Doelger is an executive producer on the show. As he toured the site of filming at Shane's Castle near Antrim, he praised the local facilities and the local talent which has grown more skilled since filming began in 2010.
However, he is protective of the landscape gems which the company has discovered. He would reluctantly advise other television and film companies to come to Northern Ireland but, "we don't want the competition," he says.
"I would hate to think everybody is chasing after us and taking other locations. I think Belfast is unique in that you can travel very, very short distances and find yourself in very different landscapes and that has been fantastic for us," he says.
Even though we are not allowed to give away any of the storylines the BBC can confirm some of the new cast members to the show including Dame Diana Rigg, MacKenzie Crook and local actor Richard Dormer.
And for those fans you will be glad to hear there will be a fourth series of Game of Thrones.
Additional reporting by Rosy Billingham and Peter Coulter.